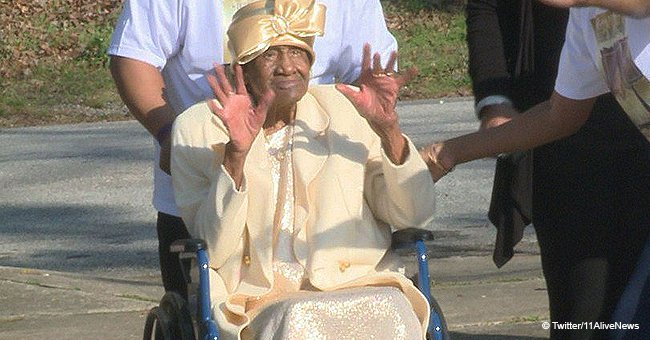 111-Year-Old Granddaughter of Slave Once Shared Life Lessons and Beauty Tips at Her Birthday Party
Willie Mae Hardy, a lady from Georgia, Atlanta, celebrated her 111th birthday with her family and even shared life lessons as well as her secret to be that beautiful with the guests.
The senior woman was born on March 12, 1908, on a plantation in Junction City, Georgia. Hardy, whose grandmother was a slave, has lived in Atlanta for more than seven decades and still attends to church.
She was the oldest of seven siblings and, during her childhood, spent most of her time doing all kind of chores for her family, including picking cotton, plowing the fields or tending to her parent's livestock.
HER EARLY YEARS
Hardy dropped out of school when she was in third grade to help her mother take care of her six siblings, a common practice at the time. For 60 years, she worked as a domestic housekeeper. At the moment, she has been an active member of the Butler Street Baptist Church for 73 years and counting.
In the blog I am Decatur, Hardy described some of the most relevant aspects of her life. One of the most frightening memories from her childhood, according to the blog, happened during the Jim Crow era. The Ku Klux Klan went to her family's house and took one of her cousins, Dan, and she never saw him again.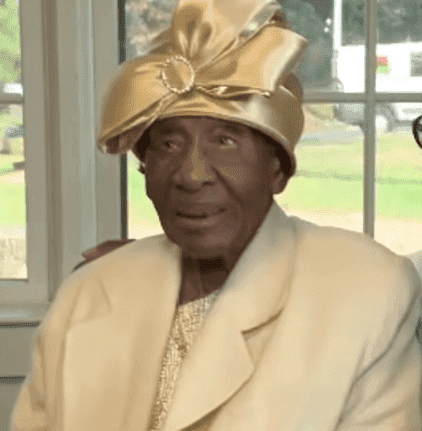 Willie Mae Hardy at her 111th birthday party | Source: YouTube/11Alive
DETAILS OF HER LIFE
Even though her mother had seven children, Hardy only has one, Cassie Nell, who is 92 years old and still lives with her. As Hardy's family revealed, the woman has seven grandchildren, 10 great-grandchildren, 30 great-great-grandchildren, and four great-great-great-grandchildren.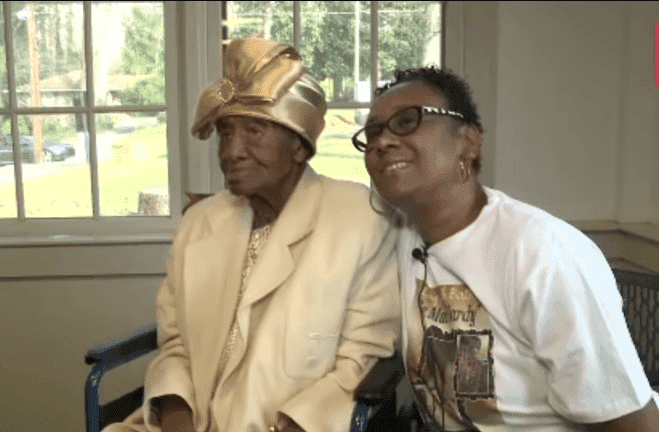 Hardy and one of her grandchildren during the interview | Source: YouTube/11Alive
In a statement, the family set clear that Hardy's passions were going for walks, working in her yard, gardening her porch plants, and listening to gospel music. However, due to her age, she cannot do most of those activities.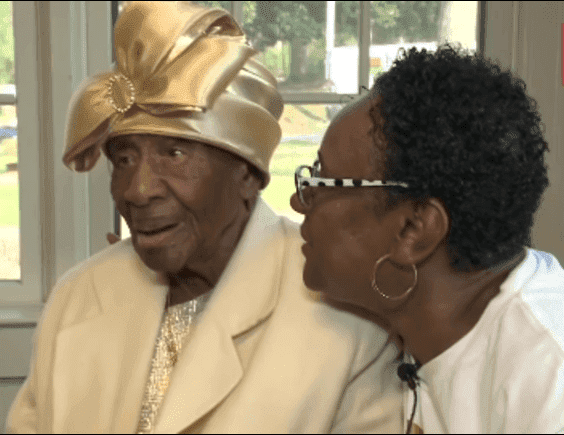 Hardy responding one of the questions during the interview | Source: YouTube/11Alive
HARDY'S LESSONS
During an interview, the lady shared some life lessons, saying that people should treat each other right and love everybody. Apart from that, she admitted she has been alive for so many years because she trusted her Master, God.
Finally, when asked about any beauty tips, Hardy pointed out it was "natural beauty." Hardy is not the only +100-year-old person who has a great reason to throw a party. Arthur Jacobs, 105, and Marcia, 100, celebrated their 80th wedding anniversary in a hospital.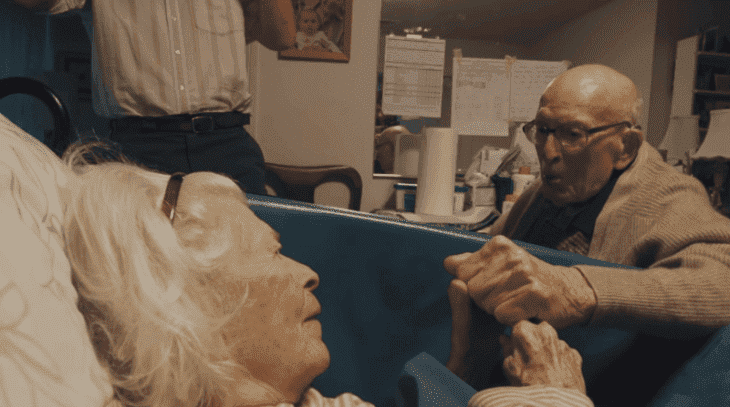 Arthur Jacobs and Marcia celebrating their 80th wedding anniversary | Source: YouTube/Gabe Jacobs
ARTHUR AND MARCIA'S RELATIONSHIP
The beautiful moment was recorded in a priceless video that shows one of their grandchildren asking the lady if she could remember marrying "this wonderful guy," and the woman only said "hello hello."
In the description of the video, Gabe, the grandchild, explained that Marcia could no longer communicate properly and that "hello hello" was pretty much the only thing she could say. The couple kept sharing the most beautiful time together while surrounded by her family.
Please fill in your e-mail so we can share with you our top stories!