Kim Kardashian Surprises Fans with No-Makeup Morning Selfie Showing Her Face Covered in Psoriasis
Over the weekend, beauty expert Kim Kardashian had a psoriasis flare up and shared it with her fans as she posted a make-up free picture on Sunday morning.
The 38-year-old Kardashian shared a photo on her Instagram Stories after she woke up on Sunday morning with visible patches of red skin all over her face with the caption, "Morning psoriasis."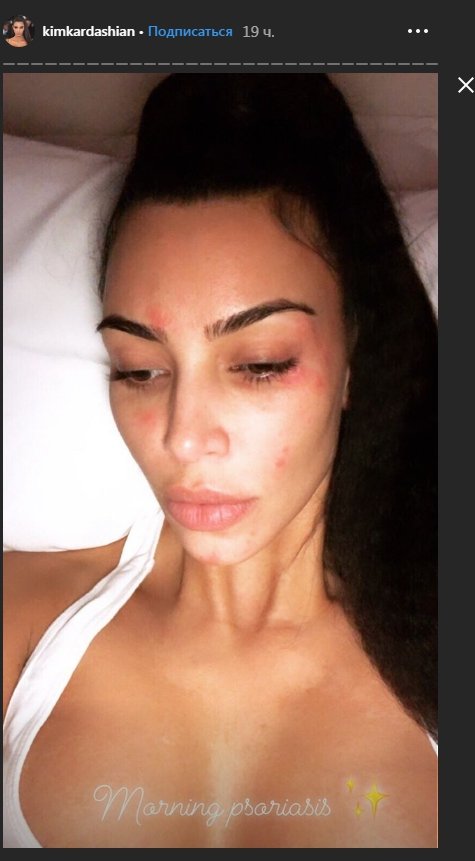 She first got diagnosed with psoriasis in 2011 and candidly shared her struggles with the auto-immune disease and treatments she's tried since.
In December last year, Kim's psoriasis got to the point where she posted an update on Twitter asking for help regarding treatments and medication as it flared up and "taken over" her body.
I think the time has come I start a medication for psoriasis. I've never seen it like this before and I can't even cover it at this point. It's taken over my body. Has anyone tried a medication for psoriasis & what kind works best? Need help ASAP!!!

— Kim Kardashian West (@KimKardashian) December 24, 2018
On a few occasions, Kim also posted pictures as it flared up on her legs, covering it in red, scaly skin. As one of the places the condition appear, it also generally flares up on the elbows, scalp and lower back but can occur anywhere on the body.
Kim doesn't openly feel self-conscious about her diagnosis and previously said, "Sometimes I just feel like it's my big flaw and everyone knows about it, so why cover it?" But the condition yet again crept up to her face and caused patches under her eyes, cheeks, and forehead. "I'm always hoping for a cure, of course, but in the meantime, I'm learning to just accept it as part of who I am," she added.
It is said that some 7.5 million Americans have psoriasis, an autoimmune disorder that causes skin cells to grow faster than normal, with the resulting scaly, red patches caused by the accumulation of skin.
In mild cases of psoriasis, it affects about 2% of the body while severe cases cover anything from 10% to 80% of the body."It's important to know that you're not alone," Cyndi Lauper, who also has psoriasis said in a post on the American Academy of Dermatology website. 
The singer is one of many stars that also suffer from the disease and has been vocal about her condition. In recent years she also teamed up with the National Psoriasis Foundation campaign "I'm PSO Ready" to shed more light on the disease.
Liam Gallagher from the British rock band, Oasis, also lives with this incurable disease. Singer LeeAnn Rimes struggled with severe flare-up's on occasion, covering about 80% of her body since her diagnosis at the age of 2.
Although there is no cure for the disease, it is manageable. As treatment is not a one-size-fits-all kind of thing, it is important to work with your doctor to find a solution that works for you.
While many others suffering from the disease feels self-conscious about sharing some skin, it definitely doesn't apply to Kim. Last month Kim appeared in a vintage 1998 Thierry Mugler gown, and it really got the tongues wagging.