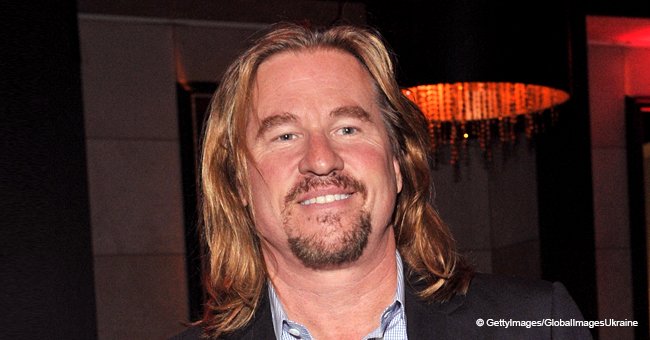 Val Kilmer's Kids Are All Grown up and Share Their Dad's Show Business Ambitions

Shortly after Val Kilmer first admitted to having cancer, he sat down for an interview with his two children for a candid discussion about family life and his disease.
In his Brentwood art studio, Val and his two children, Jack and Mercedes spoke with THR for their Hollywood Legacies issue.
Val's tracheostomy may have left him with shortness of breath and a raspy voice, but he is still the actor and father that family, friends, and fans adore and love. Both Mercedes and Jack followed in their father's footsteps.
While daughter Mercedes prefer the New York avant-garde theater circles, Jack hit the big screen in films like, "The Standford Prison Experiment" and "Nice Guys." In 2013, Jack made his acting debut in the 2013 drama, Pal Alto opposite none other than his famous father.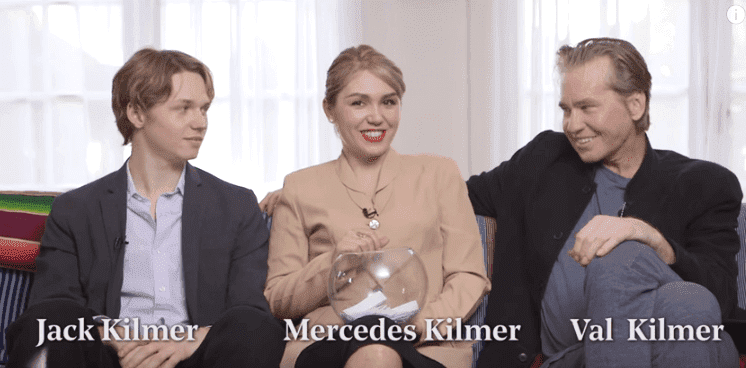 Jack, Mercedes, and Val Kilmer. | Source: YouTube/The Hollywood Reporter
But for Val fame is messy, "Fame is sort of a mess. You get treated differently, but it doesn't have anything to do with who you actually are," he
said
during the interview.
Jack, who takes strongly after his Grammy-nominated father, noted that acting is "a little bit of everything, like an experiential dilettante." Growing up, Mercedes "can't remember not being aware" of her famous parents and added, "It was about navigating how other people perceived us rather than any kind of reckoning."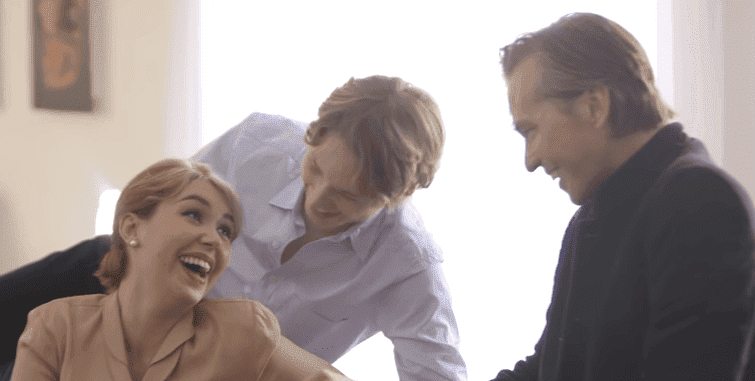 Jack, Mercedes, and Val Kilmer. | Source: YouTube/The Hollywood Reporter
The actor denied being sick on numerous occasions and preferred to keep his diagnosis private in spite of rumors floating around about his decreasing health. Having his
children with him in the hospital
probably helped Val in coming to terms with the diagnosis he'd just received.
Mercedes got hit by a car, which left a scar down her leg and Jack was there to support them, "I was just, you know, miserable, distraught, sitting next to these two," he said.
Val's faith as a Christian Scientist also helps him get through the tough times, having also undergone chemotherapy for his cancer.
As part of the interview, the Kilmer's had some fun as they played Fishing for Answers. Who would have thought Val's first celebrity crush was on the "Casablanca" beauty, Ingrid Bergman.
On which one of their dad's movies they liked the most, Mercedes said, "Heat" without hesitation and added, "I'm very proud that we have our family contribution to LA noir [genre]." For Jack, it was an easy question as well as his father's 1993 film "Tombstone" stood out for him because he "just loves a good western."
Val Kilmer and their mother, Joanne Whalley divorced in 1996 after they initially fell in love on the set of the 1998 fantasy movie "Willow."
Just last week Val Kilmer made a rare public appearance not being able to stay away from a great love of his.
Please fill in your e-mail so we can share with you our top stories!