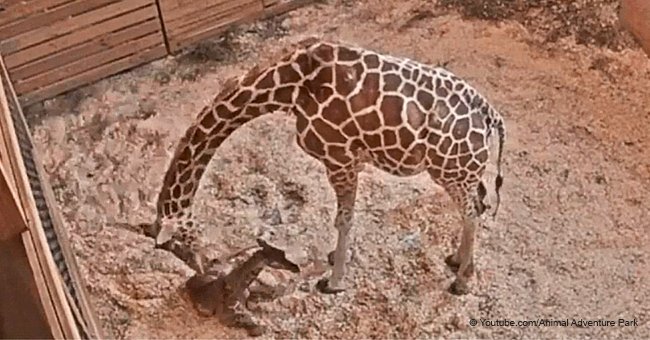 April the Giraffe Just Gave Birth to Her Fifth, Sweet and Squirmy, Spotted Calf
The beloved Giraffe known as April just became a mom of five and America was thrilled to witness the dramatic event.
The Animal Adventure Park of Harpursville, New York shared live video on YouTube of 17-year-old April as she delivered her fifth cow (or baby giraffe). They later announced the news on their Facebook page.
The event took place on Saturday, March 16 and was witnessed by 300,000 viewers. It was the second time people got to see April give birth.
In 2017, son Tajiri entered the world and again, many tuned in to watch the grand event. April's newest cow has not yet been named.
The week before delivery, April was releasing a "thick discharge, [showing] lots of tail raising, & obvious calf-repositioning," all signs of an impending due date.
On Saturday, April was visited by staff at 11 am. The "first 8-10" of [the baby's leg] were emerging." By 12:43, a successful delivery was completed. The calf stood on its feet around 1:27 pm.
The post read:
"Teams have since left the barn to allow mom and calf to continue their bond and build strength. Tomorrow, a full exam of the calf will take place and provide weight and height."
April and her new calf are said to be doing well. The father, who stays in an adjacent pen, can look on as April cuddles with the farm's newest addition. It's been in the making for around 15 months.
The "textbook" birth was a sight to behold for the thousands of animal lovers who were watching. Like his older brother, they can anticipate that the new one will have his own YouTube channel soon.
April, now made even more famous, is praised for her excellent motherhood skills. Because giraffe births have significantly decreased in the last three decades, she is regarded as crucial to her species.
The park's owner Jordan Patch spoke on the recent birth, saying:
"Success! With an average 15-month gestation, we are thankful to have a healthy calf on the ground, nursing, and bonding with mom. With wild giraffe numbers plummeting annually, every calf born counts."
Giraffes are actually the tallest mammals on the planet. Their long legs are often taller than humans and allow them to move up to 35 miles per hour. They spend the majority of the day standing on their legs.
The gorgeous creatures don't drink water every day as they take in liquids from the food they ingest daily. They also only require from five to 30 minutes of sleep each day.
Back in November 2018, another giraffe gave birth and the whole thing was again captured on video. This time, the animal was in a larger sanctuary at Kenya's Olare Motorogi Conservancy.
A Wimbledon family witnessed the event. They first noticed the giraffe behaving strangely and then saw that the calf was poking out of her. The birth lasted about two hours.
Within 30 minutes, the giraffe was able to take its first steps. It stood under its mother and looked around, getting its first view of the large world it had entered.
Please fill in your e-mail so we can share with you our top stories!