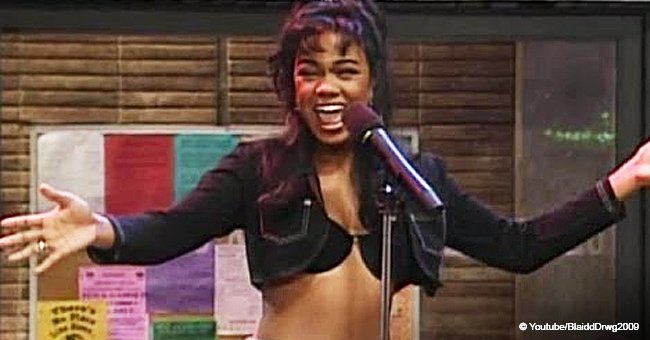 Remember Ashley Banks from 'The Fresh Prince of Bel-Air? She Is Not That Rebellious Teen Anymore!

Tatyana Ali is famous for playing Ashley Banks in "The Fresh Prince of Bel-Air" but her biggest role yet is as the devoted mom of her son.
Most fans of the hit sitcom from the 90s "The Fresh Prince of Bel-Air" will remember Tatyana Ali as the bratty and contentious Ashley Banks, Will Smith's on-screen cousin.
But "little Ashley" is all grown up, and Ali, 40, became a mother for the first time in September 2016.
"It's so much fun. You try to get ready, but nothing can really prepare you for what actually goes on and what it's like."
"ASHLEY" WELCOMED HER FIRST CHILD
Ali, who is married to Dr. Vaughn Rasberry, an assistant professor of English at Stanford University, welcomed their son Edward Aszard Rasberry.
Baby Edward was born in the hospital, but Ali was accompanied by a doula, who provided support for the new mom and her family.
Ali attended Harvard University, where she received a bachelor's degree in African-American studies and Government
TATYANA ALI AND HER HUSBAND DECIDED ON A DOULA
Ali and Rasberry decided on a doula - a birth companion, birth coach or post-birth supporter. The doula assisted Ali before, during, or after childbirth, and provided emotional support, and facilitated communication with the hospital staff.
"I have friends who've had different birth experiences. Some in the hospital, some at birth centers, some at home, and the common denominator was actually having a doula and somebody who's really there as an advocate for both parents."
TATYANA ALI MET HER HUSBAND ONLINE
Ali met her future husband online, on eHarmony, and announced their engagement in March 2016. The couple married in July 2016 in Beverly Hills, California. Edward is their first child and first grandchild on both sides of the family.
TATYANA ALI REVEALS INCREDIBLE MATERNITY SHOOT
Ali has revealed the photos she had taken by photographer Lance Gross during her pregnancy, which show off her beauty and the full glory of her baby bump.
The new mother is enjoying her baby and sharing every moment with her devoted husband.
The fans who watched her grow from the 11-year-old brat to a confident, beautiful woman wish her all the happiness in the world, for her and her new family.
WATCHING TATYANA ALI GROW UP ON "FRESH PRINCE"
From the beginning, Tatyana Ali was a favorite with audiences. The young actress debuted on the hist series "The Fresh Prince of Bel-Air."
Ali played the role of Ashley Banks, Will Smith's little cousin, and constant hanger-on. Through the series' 6 seasons, Ashley grew from 11-year-old brat in pigtails, to a 17-year-old teen.
In 2002, Ali attended Harvard University, where she received a bachelor's degree in African-American studies and Government, but she did continue to act in the soap "The Young and The Restless" and in the show "Second Generation Wayans".
Please fill in your e-mail so we can share with you our top stories!