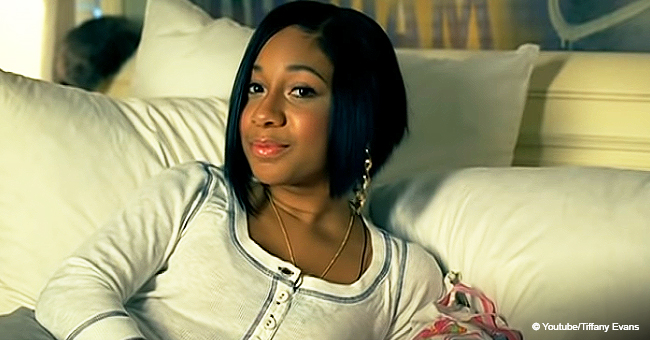 Remember Singer Tiffany Evans? She Has a Little Daughter Who's into Performing Just like Her Mom
Singer Tiffany Evans and her daughter broke the internet with their impressive impromptu cover of Ariana Grande's 7 Rings. See the adorable clip that features the mother and daughter belting out their own hip version of the song.
Tiffany Evans and her daughter Adalia got the sweetest surprise when their clip singing Ariana Grande's song, "7 Rings" broke the internet.
MORE THAN JUST "CORNY MOM STUFF"
It all started with Tiffany's daughter urging her to sing Ariana's song with her because it was her favorite. The singer obliged and posted the clip with hesitation as she told her followers it was "corny mom stuff."
In the cute impromptu video, an orange-haired Tiffany kicks off the singing then she's eventually joined by Adalia who impresses with her background vocals complementing her mom's voice. She also looked quite the cool singer in a pair of dark shades.
Soon after, fans showed appreciation for the clip with comments flooding her post. Some even thought Tiffany's rendition was better than the original.
MORE THAN JUST A MOMMY-DAUGHTER MOMENT
Following the success of their clip and due to popular demand, Tiffany released a remix of the song featuring "supa cool Addy." Calling it a T-Mix, her tweaked rendition of Arianna's original immediately became a hit.
"I had no idea that me and Addy's cover would blow up like this, "the 26-year-old said after the cover reached over 3 million views on The Shade Room and more than 1.3 million views on her Twitter account. "We were just having a mommy-daughter moment," she adds.
MORE THAN JUST A COVER GIRL
This is not the first time Tiffany's cover of a song attracted attention. Last summer, she sang her own version of Ella Mai's "Trip" and she owned it.
This is not to say that the singer who got a perfect score in all her performances on Star Search doesn't dish out original music. In fact, she just released her song, "Switch Up" early this year and is scheduled to release an EP by the spring.
MORE THAN JUST A WALL WITH HOLES
Tiffany has two daughters with her ex-husband, Lorenzo Henderson - Addy and Chaden. In November, the singer opened up about the abuse she went through in the hands of Lorenzo who she married in 2010 when she was only 18. She shared a photo of a wall with holes (which has since been deleted) and revealed it was the reason she finally decided to leave him.
"What I'm not going to do is suffer in silence because this man don't wanna let me go. Yes this is tonight. The black eyes, the busted lips, the countless embarrassments, the cheating, the lying, I've endured for years and so much shit on my name because of this man. Somehow I'm still the blame for moving on. NOW the cats out the bag."
It's good that Tiffany finally set herself free from the chains of a destructive marriage. Her latest success with her daughter is proof that she's in a much happier place right now.
Please fill in your e-mail so we can share with you our top stories!