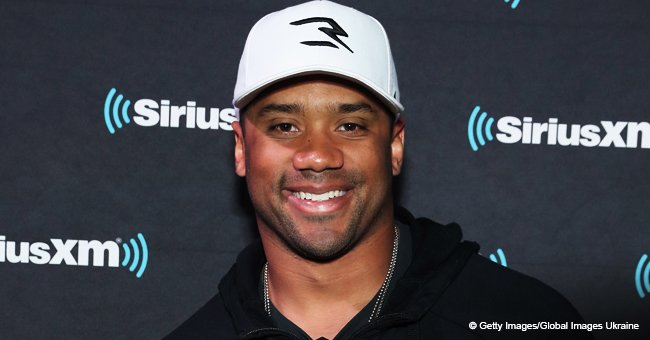 Russell Wilson Cheers Stepson Future at His 1st Football Game after Revealing Their Special Bond
Russell Wilson is a proud stepfather as he cheers for Ciara's son, Future Jr., at the boy's first football game. The quarterback recently revealed some tips for making blended families work while explaining how being a stepdad taught him what love truly is.
The Seattle's Seahawks star took to Instagram to share an adorable pic of Future Zahir Jr., Ciara's son with rapper Future, looking delighted in the football field after the first victory of his team.
In the pic, the 4-year-old is donning his football uniform: khaki pants, violet t-shirt with the number 3, and black sneakers, while flashing a big smile and peace signs to the camera.
"First Official Football Game! Touchdown Machine! #WeWon," Wilson captioned the post.
Fans of the NFL star and his wife immediately filled the comment section cheering for Future and praising Russell for his parenting skills. One user wrote, "Like Father, like son!!!!! Gooooo lil guy! Show them what Daddy taught ya!!"
"Papa Russ.... great job. Train the child," another added. And a third one chimed in to say,
"Awesome @dangerusswilson you are a shining example of what a bonus child needs in their life when the mom comes as a total package. Keep being and doing you as well as being what your bonus child needs. FANTASTIC JOB AND GOD BLESS YOU AND YOUR FAMILY @ciara and lil Future deserves it and you."
Ciara and Russell married in 2016, a year after the singer welcomed Future Zahir with her ex-fiancé, Future Wilburn. Since then, Russell made sure to embrace the boy as if he was his blood, and he recently explained to BuzzFeed that it was the affection he developed for Future, which made him realize the true nature of love.
"It's interesting. It's easy to love somebody that's blood and everything else, but when you can love somebody just like it's your own child and everything else, that's what real love's like," he explained.
When asked about tips to make a blended family work, the quarterback said:
"I think the best thing is love. In terms of tips, I mean, you know being there for your kids, you know, tucking them down, putting them to bed, going to as many things as you can."
Wilson and Future Jr. have been pictured practicing baseball, basketball, and football on several occasions. The boy is also constantly cheering for Wilson on the game days, and they go on family trips alongside Ciara and the couple's daughter, Sienna Princess.
And while most fans have praised Russell for his big heart, others have slammed him for "trying to replace" Future Wilburn's parental role in the toddler's life.
Even the rapper recently took some jabs at Wilson on a radio show, stating that he wasn't happy with the way Wilson came into Future Jr.'s life:
"You'd already started going around my kid when Y'all started going together, and you haven't even talked to me. And Y'all got married, and she said 'Oh I want you to meet Russell.' Why would I want to meet him now?! Y'all already did the damage!"
However, the rapper admitted that having an NFL star coaching his son is not so bad, saying:
"He talented. Why wouldn't I want a championship player coaching my son? I want the best for my son."
It seems like Future is developing a love for the football game, thanks to Wilson. Hopefully, both fathers will be able to put their differences aside in the future and cheer for the boy together.
Please fill in your e-mail so we can share with you our top stories!