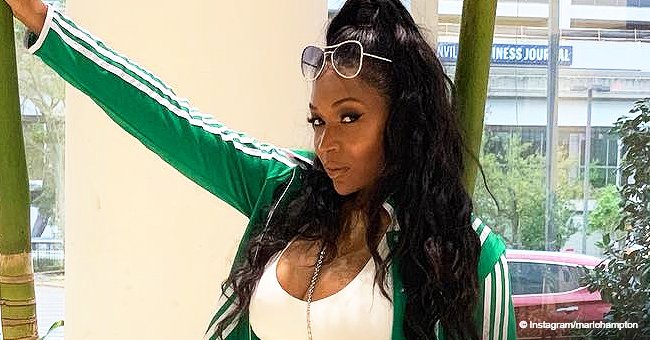 Marlo Hampton Raised Eyebrows as She Showed off Dirty Dance Moves at Eva Marcille's Wedding

"Real Housewives of Atlanta" star Marlo Hampton showed off some sultry dance moves at Eva Marcille's wedding.
Fans of "The Real Housewives of Atlanta" loved Eva Marcille and Michael Sterling lavish wedding, which was attended by the cast of "The Real Housewives of Atlanta" and their friends and family.
The celebrity guests had a great time, and some, like Marlo Hampton, even managed to steal Eva's thunder on her special day.
GOING WILD WITH A BUMP-AND-GRIND
The traditional tossing (and catching) of the garter and the bouquet had an unexpected outcome.
The winners of the prizes, Marlo and Eva's cousin, Emmy-nominated makeup artist, Terrell Mullins, went wild and did a sizzling bump-and-grind to commemorate the occasion.
The highlight of the entire evening was undoubtedly when Mullins slid the garter onto Marlo's shapely leg
A SIZZLING PERFORMANCE BY MARLO HAD THE GUESTS CHEERING
While Mullins was the instigator, starting a sexy swagger and dancing suggestively towards Marlo as she sat on a chair, she encouraged his overtures with her own sexy moves.
MULLINS PUT THE GARTER ON MARLO IN THE HOTTEST MOMENT OF THE NIGHT
The highlight of the entire evening was undoubtedly when Mullins slid the garter onto Marlo's shapely leg, and all the way up to her thigh with his teeth. The guests, and his cousin Eva cheered and clapped enthusiastically.
THE INTERNET REACTS TO "DIRTY DANCING" MARLO
While Eva Marcille herself seems to have enjoyed the show put on by Mullins and Marlo, the reactions on social media were mixed, from enthusiastic approval to outright criticism.
Mullins himself commented on his post on Instagram:
"So this is what happen when you have to [sic] much Patron."
All in all, Eva's wedding was a great party, and one neither the lucky guests nor the "RHOA"'s devoted fans will ever forget.
NENE LEAKES WEEPS AT EVA MARCILLE'S WEDDING
While Terrell Mullins and Marlo Hamption had the guests hooting and cheering with their "Dirty dancing," NeNe Leakes was crying her eyes out over her faltering relationship with husband Gregg Lleakes.
The distraught NeNe had started crying when Eva and Mike exchanged their vows, and wanted to leave the wedding reception, but Hampton persuaded her to stay for Eva's sake.
NeNe revealed she was going through a complicated moment in her marriage and that Gregg had become "mean," and that they were discussing him moving out of the house.
NeNe did not go to the wedding with Gregg, but was accompanied by a personable gentleman she identified only as "a friend."
Please fill in your e-mail so we can share with you our top stories!