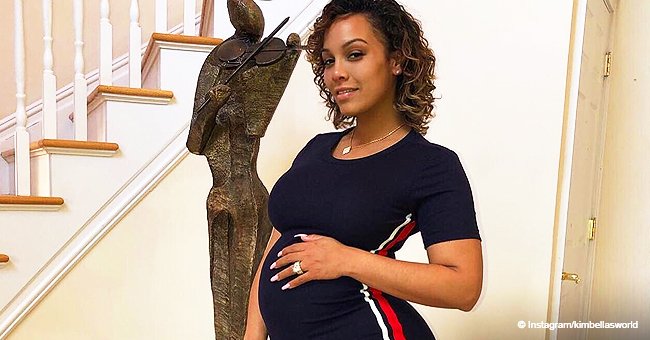 Kimbella Flaunts Growing Baby Bump Posing with Custom Bag While Her Husband Is Serving Jail Time

"Love & Hip-Hop" reality star KImbella revealed her pregnancy and shared photos of her growing baby bump.
Kimbella Vanderhee shocked her fans on "Love & Hip Hop: New York" when she announced her pregnancy on the show's Season 9 reunion special.
She has now posted several photos on her Instagram account, flaunting her growing baby bump.
THE RAPPER'S FOURTH CHILD
The reality show star is married to rapper Juelz Santana, with whom she shares two children, Juelz Santana James, 8, and Bella Monroe James, 6.
Sanatana has one more child from a previous relationship, LaRon Louis James, Jr, 15.
Kimbella and Santana have had a tumultuous 10-year relationship, and married on January 10, 2019
KIMBELLA'S BABY-DADDY IS IN PRISON
Fans were shocked by the pregnancy revelation, since Kimbella's husband Santana is currently in prison serving a 27-month sentence on a gun charge. The raper has had several run-ins with the law, and has charges of gun and drug possession still pending.
FANS WERE AMAZED BY KIMBELLA'S BABY BUMP
Even though Kimbella had been posting photos regularly, she had skillfully picked her snaps so that her baby bump was practically unnoticeable. The fans reacted with amazed disbelief:
"Don't tell me you were prego here too!"
"How did we not catch that?"
FACING THE BIRTH ALONE
Kimbella, who is raising her two children alone while Santana is in prison for the next two years, will also be facing welcoming her new child on her own.
Kimbella and Santana have had a tumultuous 10-year relationship, and married on January 10, 2019, after he had been condemned to prison in December 2018.
KIMBELLA AND SANTANA'S SURPRISE WEDDING
Juelz Santana and Kimbella have had one of the most volatile relationships on reality TV with several allegations of cheating leveled against the rapper.
Fans of the reality show "Love & Hip-Hop" were shocked fans when the battling couple suddenly decided to tie the knot after 10 years together.
Their couple has two children together, and a third on the way, and since the rapper will be spending the next two years in prison, they have now cemented their legal standing.
Please fill in your e-mail so we can share with you our top stories!