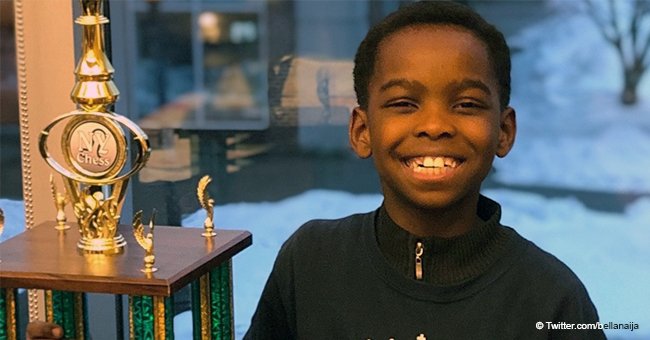 Homeless 8-Year-Old Nigerian Refugee Gathers $100K+ in Donations after Winning Chess Championship
Tanitowluwa Adewumi melted the hearts of many Americans after he won the New York State chess championship while living in a homeless shelter with the rest of his family. After people found out that he was a homeless 8-year-old refugee from Nigeria, they decided to crowdsource funds for a new home for his family, which has now gathered more than $100,000 in pledges.
Tanitowluwa Adewumi stunned his opponents at the New York State chess championship, where he swept all his matches to earn the championship title. He was not defeated at all during the competition, which is not an easy feat at all especially for someone who began playing just a year ago. However, this did not stop him from playing the game that he clearly excelled in.
"[...] This game was for him."
TANI'S LIFE BEYOND CHESS
More than the difficulty of winning a championship with just a year of experience, Tanitoluwa has experienced a lot more trials than any other 8-year-old kid. He is a Nigerian refugee who fled the country two years ago due to the increasing attacks of Boko Haram terrorists in their area, especially on Christians.
Since moving to New York, his family has been living in a homeless shelter, where he continued to play chess despite using the floor to play.
His coach, Shawn Martinez, said that the young prodigy practices for hours on his own, as "he likes deep thinking."
"He smiled every time he did anything on the board or learned something new. I could just tell this game was for him."
After winning the competition, someone created a GoFundMe account to raise funds for finding the Adewumi a permanent home in New York. Initially trying to raise $50,000, they have raised $178,994 and counting since March 20, 2019.
Thanks to their generous donors, Tani and the rest of his family are ready to move into their new home, where he will be able to practice his chess skills in a more comfortable environment.
After winning the New York State championship, he is now set to compete in the National Championship in May, where he is ready to win that championship yet again.
"I want to be the youngest grandmaster in the world."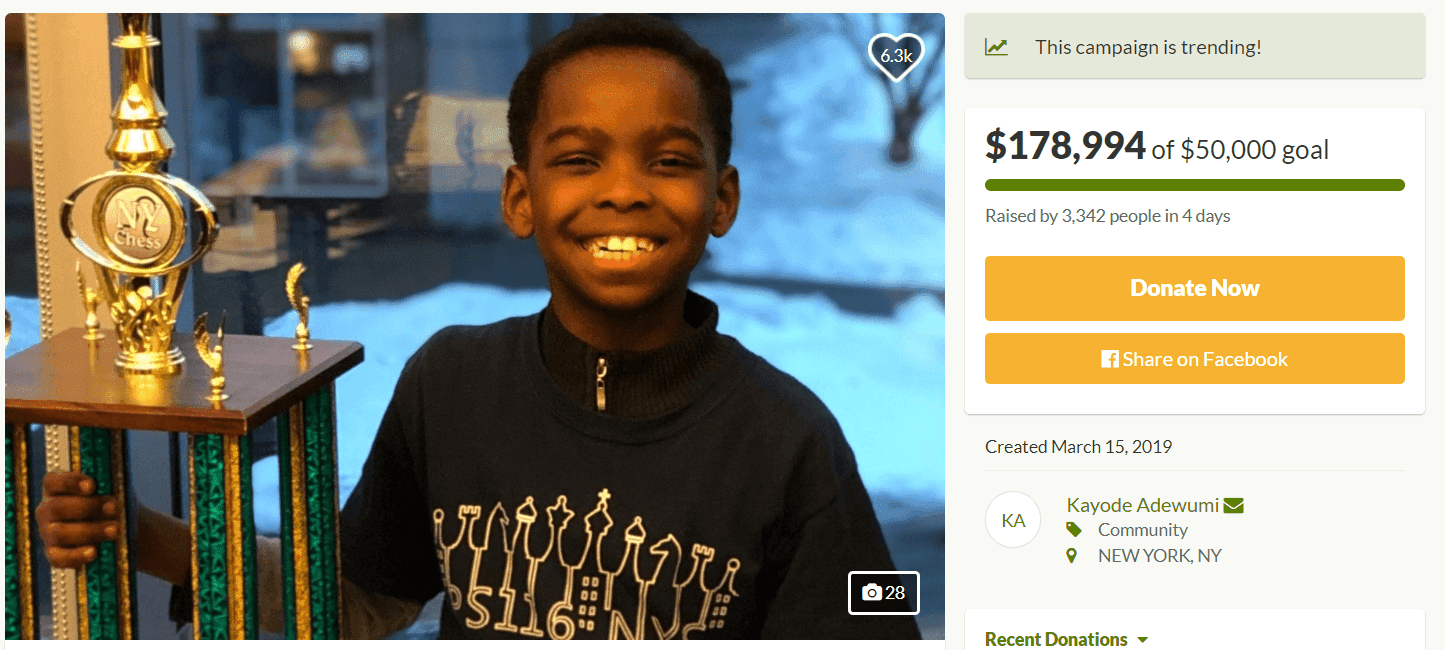 The total amount collected for the Adewumi family as of March 20, 2019 | Source: GoFundMe for Tani Adewumi
THE POWER OF CROWDFUNDING
A small donation might mean nothing to donors who have money to spare, but when put together, it makes a huge difference in other people's lives.
With the rise in crowdfunding platforms in the past couple of years, it has been a lot easier for people to request additional help when they need it most.
It's not just people that others have been raising funds for recently, but even for animals who are in need of help worldwide.
In New South Wales, Australia, a farmer named Les Jones requested for help to save him from having to kill 1,200 of his sheep due to a harsh drought in the area that left him with no resources to continue taking care of them.
Instead of letting his flock starve, he was going to kill them out of mercy because he had nothing left to feed them. However, he made one last plea to strangers who came through with trucks of hay and water.
His sheep were then spared from death and were given another shot at life, thanks to the donations of kind strangers who provided them with the food that Les could not provide due to the drought.
In a world where people seem to have lost faith in humanity, crowdfunding campaigns and donation drives meant to help others are flashes of hope that prove there are still good people in this world.
Please fill in your e-mail so we can share with you our top stories!