Gallant Turkey Stops Traffic Until All of His Friends Safely Cross the Road
A turkey who could arguably pass for a traffic warden stopped traffic for his turkey friends to cross the road. Road users at the busy highway duly obliged and waited for the turkey party to cross successfully.
A driver, Donald Pomerleau recorded a brave turkey stopping traffic so that all his female friends could pass. The bird was in commanding and authoritative mode and took it upon himself to see that his female counterparts were safe and sound.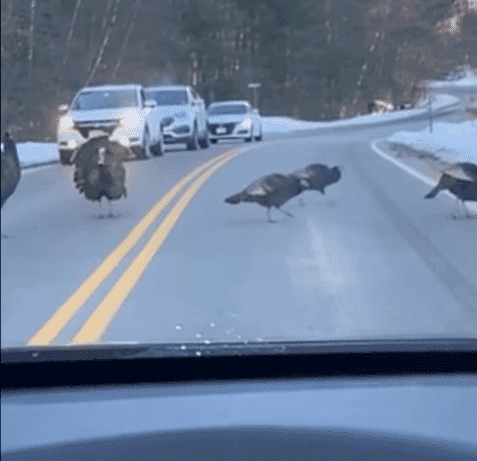 The footage shows the tom accompanying a group of female turkeys and few young males to cross the road. As the others cross, he stops at the middle of the New Hampshire road, close to the double yellow lines and puffs his shoulders.
Other birds then begin to cross the road, and he watches them, making sure they are safe, and no motorist disobeyed his rule. The motorists are patient enough and wait for all the birds to cross.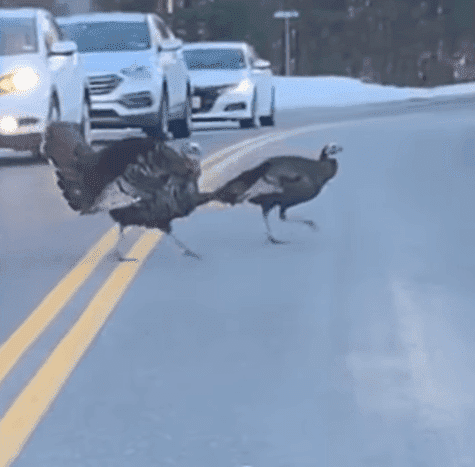 Finally, all birds cross, and our new traffic warden swirls round and crosses the road behind the last bird, and all cars are free to go. What a traffic warden can do, a brave turkey can do better eh?
The courageous bird wowed a lot of admirers for its bravery and will surely be getting a lot of attention from his female colleagues. The turkeys may be part of the generation of wild turkeys transplanted into New Hampshire about four decades ago.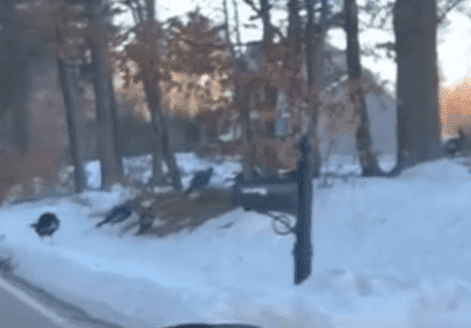 Wild turkeys disappeared from the area about 150 years ago due to loss of habitat and absence of hunting regulations. Now there are over 25,000 birds estimated to be in the area. Well, one of them happens to be a brave 'cross guard' as the video showed.
If you are wondering if all turkeys have that courageous will in them and about any other turkey facts, here are some few facts about turkeys you should know:
The wild turkey was hunted nearly to extinction in the early 1900s, but their numbers have significantly risen to about seven million today.
More than 45 million years of evolution separates turkeys from chickens.
Six subspecies of wild turkey exist today, and they are all natives of North America.
That is just a few facts; you can find more facts about wild turkeys. They are a beautiful and brave species of birds. Our crossguard turkey certainly showed that on the road.