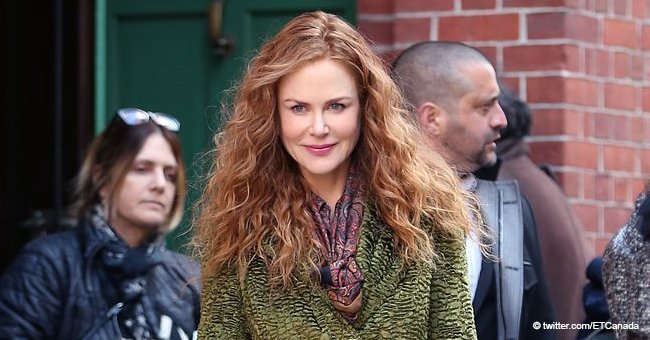 Nicole Kidman Spotted with Her Two Little Daughters Making a Rare Public Appearance

Nicole Kidman and husband, Keith Urban have managed to keep their marriage and kids away from the spotlight; so it is always a blessing to catch them in public.
Kidman's daughters are not seen often in public, but when the two lovely girls: Sunday Rose, 10 and her younger sister, Faith Margaret, 8 were seen visiting their mom on set, we couldn't help but stare.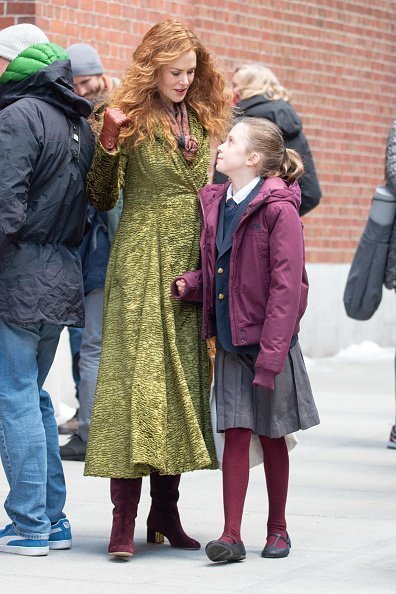 Nicole Kidman on the set of 'The Undoing' with her daughter in New York City. | Photo: Getty Images.
cole has been busy working on the set of her new HBO series: "The Undoing" for a month now in New York. She was photographed shooting a scene outside a brick house when her daughters came over.
They've definitely missed their mother and they looked dashing in their prim and proper school uniforms. 10-year-old Rose opted for a thick burgundy jacket while Faith, 8 went for black jacket, with a fur collar, worn over their uniforms, obviously to protect them against the cold.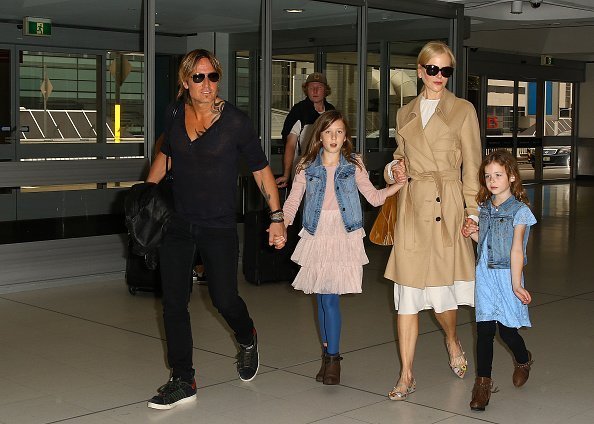 Nicole Kidman and Keith Urban arrive at Sydney airport with their daughters in Sydney, Australia. | Photo: Getty Images
51-year-old Kidman also dressed up for the "party," the hot mama wore a long green velvet coat, a high-heeled brown suede boots with a matching purse. Nicole accessorized with a silk scarf around her neck and peach leather gloves.
And for her role, she has gone back to her signature red hair, only this time, she left the curls to be wild for effect. The pictures show Nicole having a chit-chat with her older daughter, Sunday Rose, at a point she is seen closely paying attention to what the ten-year-old was saying.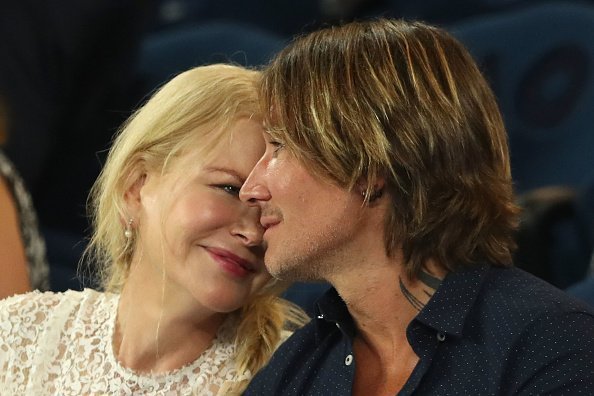 Nicole Kidman and Keith Urban at Women's Semi Final match in Melbourne, Australia. | Photo: Getty Images.
The resemblance is noticeable; they looked just like Kidman when she was younger, it's no wonder she could not help but smile lovingly at them. Even while working the doting mother gave her attention to her daughters, and they all seemed to be having a good time.
Kidman and her husband Keith Urban have found a way after ten years to raise beautiful daughters and to also keep their love growing. After Kidman's failed marriage to Tom Cruise in 2001, she hit the brakes, and although she started dating Keith in 2005, the duo exchanged vows in 2006.
Both partners have waxed stronger as they have been through a lot together. Few months after their marriage Keith checked into rehab, but he was not left alone as he garnered all the support from his wife.
These two lovebirds have managed to catch the public's attention when they attend events together. Despite being a Hollywood couple, they have managed to keep each other happy and found a way to deal with their issues.
Please fill in your e-mail so we can share with you our top stories!