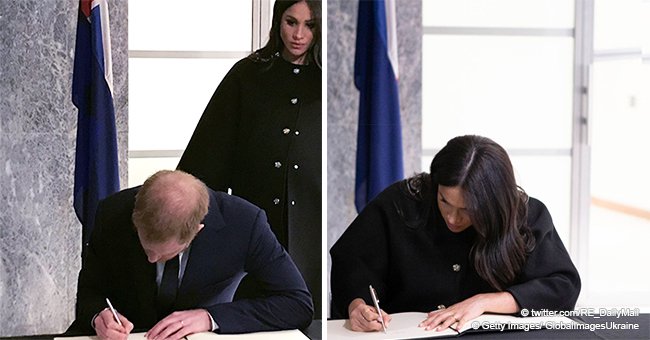 Prince Harry and Meghan Markle Join the World in Mourning the Innocent Victims of Christchurch
Representing the royal family, Prince Harry and Meghan Markle visited New Zealand House in London yesterday afternoon to pay their respects to the victims and offer condolences to the families of the Christchurch terror attack.
On Friday, 50 people were killed during the shooting at two mosques—42 died at the Masjid Al Noor mosque in central Christchurch, seven at the suburban Linwood Masjid mosque and one at Christchurch Hospital. Twenty-eight year-old Brenton Tarrant from Australia posted an anti-immigrant manifesto online just minutes before carrying out the attack.
New Zealand Prime Minister Jacinda Ardern said, "There is anger that this happened here. There are many questions to be answered. The assurance that I give you is that they will be."
As requested by the Queen, the Duke and the very pregnant Duchess of Sussex paid their tribute, having been the last members of the family to visit New Zealand in October 2018. The royal couple, both in solemn black attire greeted delegates with the Maori custom of the Hongi nose rub. Speaking with the High Commissioner of New Zealand, Jerry Materparae, Meghan said while cradling her baby bump that she was "just devastated" by this atrocity. The couple then laid floral bouquets and read the tributes left by members of the public. The book of condolence was signed by the duchess with:
"Our deepest condolences. We are with you."
Harry signed his name with the Maori word "arohanui" which means "best wishes." Throughout the visit Meghan cradled her baby bump and was seen wearing a pair of earrings with crossed-feathers design. The jewelry was a gift from the prime minister.
New Zealand Police Commissioner Mike Bush said the suspect was not known to police in both New Zealand and Australia. Tarrant has since appeared in Christchurch court and charged with one count of murder but police have said that other charges may be expected. Ardern said that the country's gun laws would change. The suspect had a license, enabling him to legally obtain semi-automatic weapons.
There will be an inquiry into the events leading up to the shooting. The prime minister vows that actions will be taken so that this could never happen again.
As the head of state for the Commonwealth of Nations including New Zealand, the Queen has led an outpouring of grief since the mosque attacks in Christchurch. Prince Charles and Camilla have said that they were "utterly horrified" by such "barbaric attacks" and it was "beyond belief that so many should have been killed and injured."
Please fill in your e-mail so we can share with you our top stories!