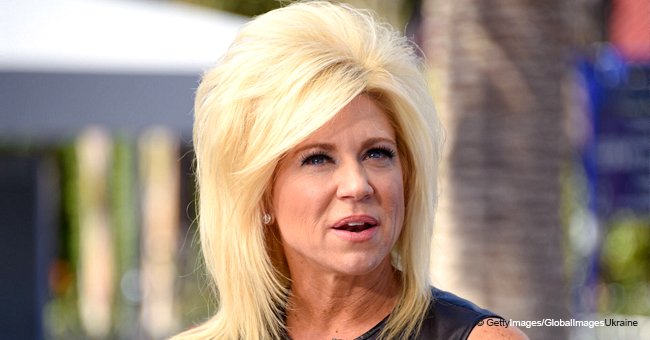 Theresa Caputo Films 'Surprise' Teasing a New 'Long Island Medium' Season with a Smiling Photo
This surprise would keep fans of TLC's Long Island Medium series on the edge of their sits. Long Island Medium star, Theresa Caputo is coming back to TV with a new season of her show, "Long Island Medium."
Caputo revealed this in the caption of a picture she posted on her Instagram page. The image showed the spiritualist smiling as she wore her signature high puff blond hair. The post also unveiled that Theresa was shooting a surprise for the next season of her show.
"New Season of Long Island Medium COMING SOON on @tlc Filming a surprise today… knock knock #longislandmedium #knockknock," the caption read.
The picture shows the beautiful mother of two looking well toned in tight blue jeans, black top and a well-tailored blazer that showed off her tiny waist. The blazer had illustrations of smiling smiley faces made of silver, and she accessorized with a couple of chunky rings and bangles. This may seem over the top, but it's Theresa Caputo!
The reality TV star also toned down her makeup with a little bronzer highlighting her cheekbones, heavy lashes and a light shimmery pink lip gloss.
The medium seems to be enjoying herself, recently she sat down with Kim K and Khloe Kardashian on the anniversary of their father's death. After the sit-in, both Theresa and Kim Kardashian were so excited about their meeting that they posted several pictures of themselves on their respective social media page. Both ladies rocked white outfits.
According to Kim K, Theresa is one of the most genuine people she has ever met. The mother of three also thanked the medium for allowing them to connect with the spirits that meant a lot to the Kardashian family. Apart from hanging out with A-list celebrities, Caputo always gives her fans a glimpse into her private life.
She's been very open about not being ready to start dating following her divorce from her ex-husband, Larry just before Christmas. This though is not the same for her husband who did jump right into dating months after they got legally separated. After 30 long years of marriage, Theresa believes she is happier now that they are separated.
It is a shocker that Caputo did not know she was a medium for a while, although she suffered from anxiety and had been hearing and seeing spirits since she was a young girl; the 52-year-old only recently decided to accept and use her gifts.
A reading with Theresa costs about 50 to 175 dollars, and that does not seem to stop the long queue of people waiting to see her although the A-list medium has admitted that all the proceeds from her readings go to charity.
She has written three books since she launched her career as a medium in 2011 ("There's More To Life Than This: Healing Messages, Remarkable Stories, and Insight From The Other Side." "You Can't Make This Stuff Up: Life-Changing Lessons From Heaven," and her most recent work "Good Grief: Heal Your Soul, Honor Your Loved Ones, and Learn to Live Again.")
Caputo is a strong family woman, and this is depicted in her close relationship with two children, Lawrence and Victoria. She also shares a special bond with her parents.
Please fill in your e-mail so we can share with you our top stories!