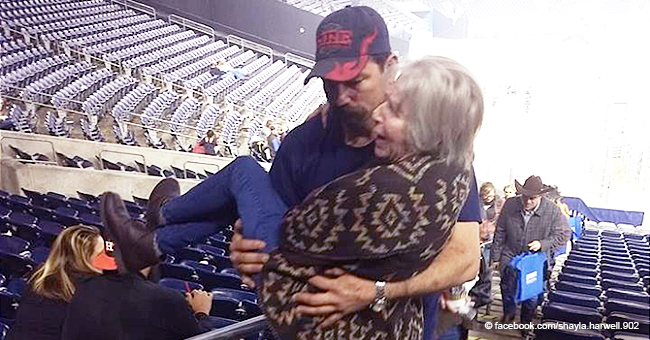 Man Becomes Internet Hero after Carrying Woman with Cancer up Stairs at a Country Music Concert
Like a superhero who spotted a damsel in distress, Thomas Harwell saw an opportunity to help an elderly lady to her seat and back up again carrying her in his arms to make the trip safe and swift.
It was during the Brad Paisley concert at the Houston Livestock Show and Rodeo that Shayla Harwell saw a grandmother struggling to get down the steps to her seat.
She told her husband about it, and he immediately stood up to help.
"She was shaking and having trouble getting her feet to move from step to step."
After the show, knowing it was unlikely she would make it back up the steps, he scooped her in his arms and carried her up. It was a spontaneous and pure act of kindness that Shayla took a snap to show their friends.
She proudly shared,
"Y'all I have to brag on my husband big time tonight! He made me so proud. As we were sitting in our seats waiting for the rodeo to start, I noticed an elderly lady, her grown daughter, and two young granddaughters trying to come down the stairs. The elderly lady was having a rough time. I pointed them out to @ThomasHarwell and said they may need help. Not only did he help get her to her seat, but she did not have the strength to come back up the stairs, so he carried her!"
At the same event, Paisley was greatly missing his dear friends George H.W. and Barbara Bush at the show and posted the honor given to them by Rodeo Houston group; two personalized empty chairs bearing their names.
Paisley developed a deep friendship with the couple who were big supporters of rodeo. He said,
"My heart was heavy this year thinking they wouldn't be there. Turns out, I guess they were."
Please fill in your e-mail so we can share with you our top stories!