Kim Kardashian Dons Eye-Popping Shiny White Leggings and Puffer Jacket While in Calabasas
Kim Kardashian was once again spotted in Southern California on Wednesday killing it in attire suitable for the chilly weather. It is a well-known fact that the mother of three if possible will rather go about wearing nothing but when she does decide to put some clothes on, Kim knows how to leave everyone's jaw wide open.
Seen up and about on the streets of Calabasas with her elder sister, Kourtney, the mother of three rocked an all-white ensemble. Due to the cold weather, Kim put on a shiny white clinging leggings, with a vintage Chanel jacket and a champagne colored Yeezy boots. And of course, she didn't forget to show off all of her curves.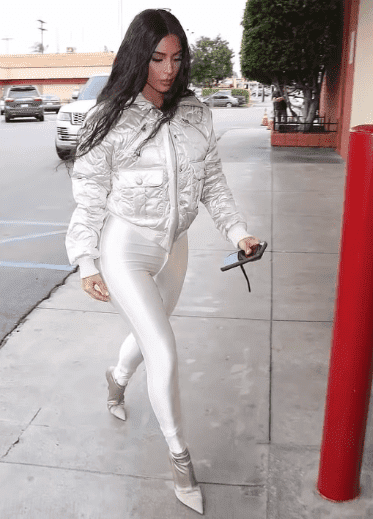 The lovely attire showed one of the many sides of Kim; the modest yet sexy one. Although her clothes were popping, the "Keeping Up With The Kardashians'" star decided to opt for a natural look kind of make-up. 
Her long wavy hair was worn down in a center part style; her eyelashes were professionally done as she wore nude lips. In her hand, her phone and sunglasses were spotted. Looking all "chic," the 38-year-old walked side by side with her sister as they ran their errands.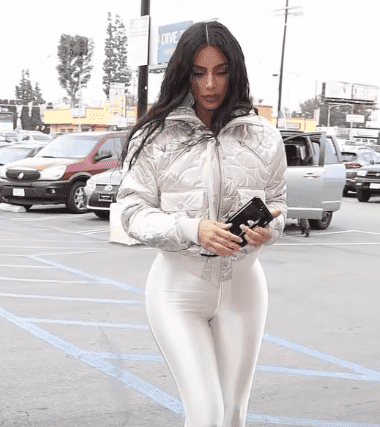 Kourtney, unlike Kim, opted for a much more simpler look. The mother of three had on long high-waisted baggy jeans, a simple black top, and black heels. Unlike her sister, Kourtney had her sunglasses fitted on her face all through while she looked chic with her hair worn down and a  natural makeup look.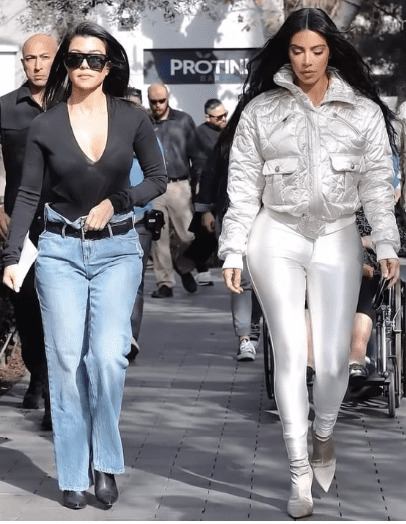 Although the sun was up at the time the sisters were spotted, Kim had earlier that same day marveled at the fact that snow was still falling at her backyard even though it is the first day of spring.
The reality TV star shared a clip on her Instagram page showing the snowfall with the caption, 
"Okay guys, it is snowing in Calabasas. Can someone please cover my outdoor furniture?" she said.  
It seems things subsided and the sisters were seen later on majestically running errands later in the day.