After 34 Years of Love with Patrick Swayze and His Death, His Ex-Wife Is Married Woman Again
It takes a lot for a widow to finally let go of the emotions of losing her husband, especially one that she spent thirty-four years of married life with. For the wife of the late Patrick Swayze, a new chapter has begun in her love life after she finally let another man hold a part of her heart.
Patrick Swayze and Lisa Niemi Swayze together had a love story that many admired and still admire. They dated for five years - having met when Patrick was 18 years old - and married in 1975.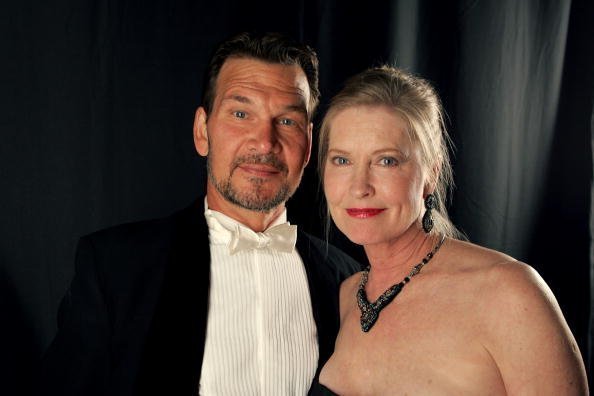 Lisa and Patrick Swayze's relationship
Together, they built a great relationship and marriage that stood many tests, survived many challenges, and remained firmly in love with each other till death.
Patrick became diagnosed with pancreatic cancer in 2008 and Lisa stood with him all through his battle and pain until his passing. With her longtime friend and partner gone, it was hard to see Lisa being able to have someone to heal her heart. However, fate always has something in store for us when we least expect.
Today is #WorldPancreaticCancerDay & we r taking Action! Join us & spread the word at https://t.co/OJag4IRDEi pic.twitter.com/3M0bFRazqT

— Lisa Niemi Swayze (@LisaNiemiSwayze) November 15, 2018
Lisa's new husband
Lisa would spend the years following her soulmate's death alone and sober, much to the detestation of her friends. They found a way out for her and introduced her to Albert DePrisco, a jeweler. Lisa's heart opened up to him, and she felt butterflies in her stomach once again after so many years.
When he popped the question in 2013; however, she was not so sure she would be able to marry another man. The charming Albert, however, assured the love of his life that he understood how she felt and wanted to make her happy, and not overshadow the life she had with Swayze.
Fourth of July, waiting under the darkening sky! pic.twitter.com/EXzIt2QYm4

— Lisa Niemi Swayze (@LisaNiemiSwayze) July 5, 2016
Their marriage
With that said, it was easy for Lisa to make her decision, and she said yes.
Albert and Lisa married in 2014 at which time she was 58, a not so young age to start a new chapter of life. Such an act did require a lot of courage and Lisa admits that Patrick would have wanted the same for her.
Celebrating Patrick's B'day today. He was so full of adventure & unafraid to embrace life. And always ready to take chances! He was never going to live in the shadows. He was a bright light, so bright that it still dazzles! Love you, always, & forever, my darling man. pic.twitter.com/JVtv9fWDym

— Lisa Niemi Swayze (@LisaNiemiSwayze) August 18, 2018
The wedding ceremony was colorful and showcased plenty of dancing at the reception. The blonde Lisa looked beautiful and elegant in her gown, designed by Oscar de la Renta, while the handsome Albert looked great in a dinner jacket by Ermenegildo Zegna.
Today, the couple live happily and help each other with everything. Love is indeed endless.