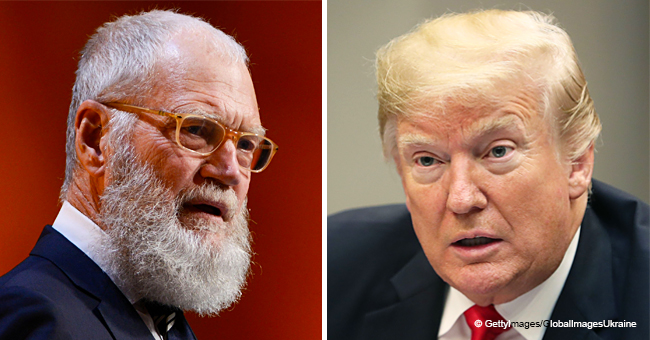 David Letterman Intends to Ask Donald Trump One Pretty Pointed Question

David Letterman visited the Ellen DeGeneres show to give viewers an insight into his life after the late show.
The prolific and talented late night host revealed several very funny anecdotes of his life when he was young and during his early years as host of The Late Show, he also spoke about his 15-year-old son and the relationship they both have.
Although Letterman stopped delighting us with his wonderful talk show, he is currently the host of the Netflix series, "My Next Guests Needs No Introduction", and his ability to entertain the public has not diminished.
Letterman admitted that it was a bit "uncomfortable" to be at the other end of the situation and be the interviewee, but he quickly felt in his element thanks to his famous and sharp charm.
However, the guest of honor seemed to lose that warmth and hilarity when he discovered that he would have to play one of Ellen's famous games. Fortunately, Letterman turned out to be an excellent player.
"Burning Questions" is one of Ellen's basic games, in addition to getting a little closer to our favorite stars; it gives us a good dose of humor, even though Letterman made it very clear from the beginning that the game seemed stupid.
Although it was difficult to convince at first, Letterman was carried away by the excitement of the game and revealed who was his first crush, what was the most rebellious thing he did when he was a teenager, what is his favorite part of the body to look at in the mirror and told a lie that he said recently.
After Letterman quickly responded to Ellen's whimsical questions and rang the bell again and again, the presenter surprised him with a big one: if you had the opportunity to interview Trump again, tell us the only question you would like to ask him.
Even though the former CBS "Late Show" presenter had the opportunity to interview President Donald Trump on numerous occasions during his 33-year career on television, it seems that Letterman has only one question for Trump.
"I'm disappointed in his administration. I would—I would say to him, 'Don, why are you such a putz?'"
David Letterman is a comedian and talk show host who is known best for hosting "Late Night with David Letterman." Although he left the show in 2015, his family are still in the media spotlight.
There has been yet another attempt to kidnap David Letterman's son, 15-year-old Harry Joseph, and his nanny. The first attempt was in 2005 when Harry was two years old.
The man who is responsible for the plot to kidnap Harry and his nanny is Kelly Allen Frank, who was previously employed by David Letterman as a painter on his ranch.
Please fill in your e-mail so we can share with you our top stories!