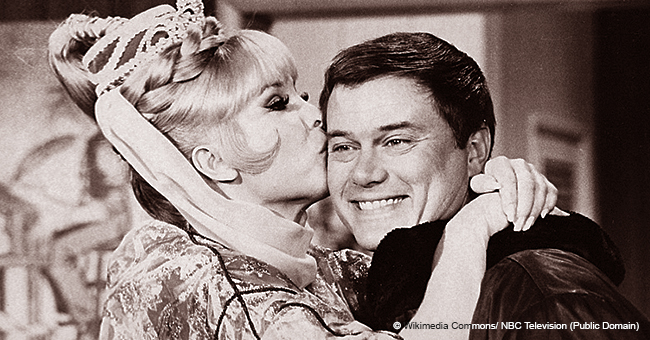 Barbara Eden Reveals Co-Star Larry Hagman Battled Alcohol Addiction during 'I Dream of Jeannie'
The chemistry and friendship between Barbara Eden and Larry Hagman on their hit '60s TV show, "I Dream of Jeannie" are what kept the series going with the beloved pair as genie and astronaut.
The show aired for five seasons from 1965-1970, and it was about a genie that popped out of a bottle which a stranded US astronaut found on a deserted island. With catchy theme music composed by Hugo Montenegro, the classic fantasy sitcom skyrocketed to success.
Behind the happy and often hilarious scenes of the show was a secret that the cast and crew kept for their beloved friend Larry Hagman.
Hagman was battling an alcohol addiction that made him challenging to be around. But Eden defended her co-star saying that,
"He was very unhappy, in the show, but the minute we'd get in front of the camera he was there. He was awake, he was there, and he was doing it."
The show's producers were making plans to replace Hagman, worried about that he would become even more unreliable, but it was once again Barbara Eden who convinced them to keep him on.
"No, my big brain said he was the best person for that part. He was wonderful in that part. It would have been a huge mistake, I'm sorry for him because he didn't like doing it, but he thanked me for saving his house!"
When the show ended, the pair were able to reunite on the '80s TV soap opera, "Dallas". Hagman who played the Texas oil baron, J.R. Ewing, was the role he became most famous for. And Barbara came on in the final season as his ex-lover, Lee Ann De La Vega. She said of their chance to work together again after many years,
"It was fun! It was a little strange, but it was fun."
Originally meant to be a supporting character, Hagman's J.R. Ewing turned into a lead role because he became popular with the regular viewers.
Because the show was famous worldwide and broadcast in more than 90 countries, and J.R. Ewing's character was present in all 357 episodes of the show, Hagman became a household name. The actor passed away in 2012 at the age of 81.
Please fill in your e-mail so we can share with you our top stories!