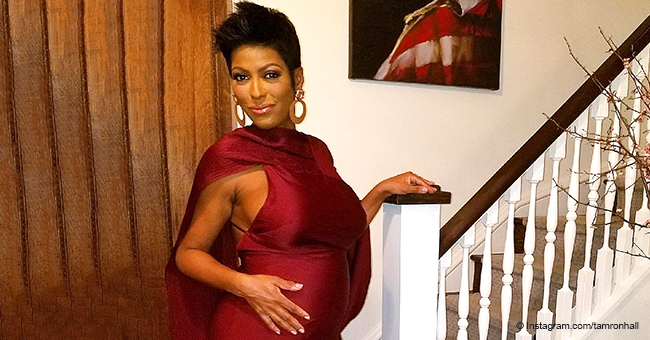 Pregnant Tamron Hall Proudly Cradles Her Growing Baby Bump in Gorgeous Floral Midi Dress
Tamron Hall is excited to be a mother, and it shows in the way she has been flaunting her growing baby bump on social media. Now, she proudly cradled her baby bump in a gorgeous blue and white floral midi dress.
Tamron Hall gave in to her fans' requests by answering some of their questions about her pregnancy. On an Instagram video, Tamron enthusiastically spoke to her fans while dressed in a pretty blue and white midi dress.
In the video, she thanked her fans for all the well-wishes they've been showering her and her baby with. She then proceeds to answer the question that people have continuously been asking, one that involves her baby's name. She reveals that thanks to a daydream she had, she has decided to name her daughter "Jojo."
The host then promoted the party that she was about to attend, which was the Rolling Stone Women Shaping the Future event.
TAMRON'S SURPRISE PREGNANCY AND MARRIAGE
In early March, Tamron shocked her fans when she announced that she was married AND expecting her first child with a man named Steven Greener.
Tamron Hall has always been a very private person, only revealing small hints about her personal life. The last time she announced she was dating someone, it was back in 2017 through the "Steve Harvey Show," where she revealed she was dating someone from the entertainment industry.
Now, however, she's finally revealed her husband to be Steven Greener, who is a music executive leading Primary Wave Entertainment's talent department. The two are happily expecting their first child, something that people consider an extremely dangerous pregnancy because of her age. At 48-years-old, she is expecting her first child and seems to be doing well in her pregnancy, as she continues to be the happy and healthy TV host that everyone knows her to be.
Please fill in your e-mail so we can share with you our top stories!