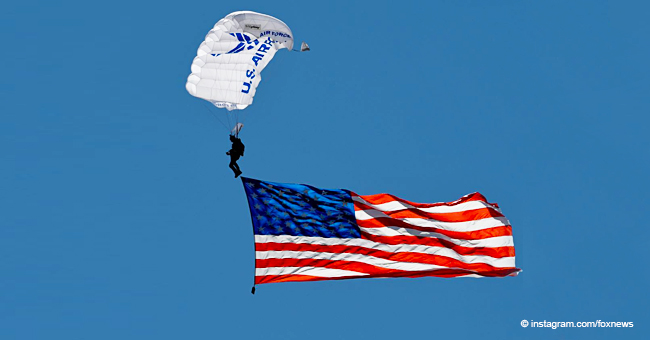 Epic Moment Parachuter Unfolded Huge American Flag in the Sky during National Anthem Performance

The 2019 Thunder and Lightning Over Arizona Air Show left visitors in awe as they watched the different Air Force performances and demonstrations. Many took photos and videos with the different aircrafts displayed.
Last March 23, the 2019 Thunder and Lightning Over Arizona Air Show took place at Davis-Monthan Air Force Base, Arizona. A video posted on YouTube showed the different occurrences during the event, including a proud American moment when the American flag was displayed on air, while the National Anthem played. The flag was held by a member of the U.S. Air Force Parachute Team, WIngs of Blue, as he flew on his parachute.
Individuals, from kids to adults, come to the yearly event to watch the show and the different displays. This year, visitors took photos with a KC-135 stratotanker, observed the inside of the cockpit of a B-52 plane, and watched different demonstrations performed by the Air Force, including one of a search and rescue.
Other performances include the reflection pass of two U.S. Air Force Thunderbirds and on air demonstrations by the Wings of Blue Team.
The event usually leaves people in awe with all the different demonstrations they are able to watch and the different information they are able to get from the U.S. Air Force members themselves.
The event happens yearly, showcasing the performances of the Wings of Blue Demonstration Team, with over 2 million spectators. Different venues are chosen such as NFL and College football games, air shows, and other areas around the globe.
Based on the venue, the team practices different performance, using different Air Force gear for safety. One of the shows crowd favorite is the jumping demo where jumpers jump from 2500' to 15000' above the ground, holding different objects with them, such as streamers and game balls. Along with the performance are different songs played to hype up the crowd.
The event usually begins with the National Anthem being sung, usually through a special performance, like other special events. The performance shows the strive for excellence exemplified by the Wings of Blue demonstrators, who represent the United States Air Force and the Air Force Academy.
Please fill in your e-mail so we can share with you our top stories!