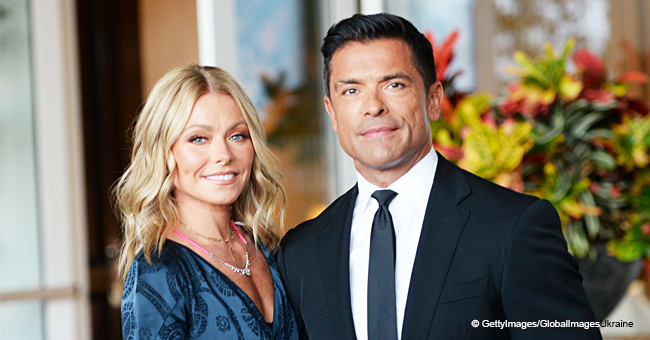 Kelly Ripa Shares Sexy Video of Mark Consuelos Flaunting His Abs

Kelly Ripa recently posted a video of Mark Consuelos' six-pack abs on Instagram - and it got people drooling over him.
From their hot bods to their passionate and undying love, "it" couple Kelly Ripa and Mark Consuelos is everyone's couple goals. Ripa, 48, shared yet another video of her husband on Instagram, proving why everyone is jealous of her.
The short clip featured Consuelos' rock hard six-pack abs as he lifted his shirt and pretended to look for his phone in his pockets - but really, he was just flaunting his abs. The post was captioned,
"This thirst trap Friday has been brought to you by the letters K and J. Thanks @kjapa."
The post got nearly 1 million views and comments verifying how lucky Ripa was and showing much appreciation for Consuelos' hot body.
One comment said,
"Oh Kelly. You are one lucky LUCKY lady. How do you not have like 12 kids (he's lucky too!)"

Instagram/kellyripa
Another praised Consuelos,
"ABS like that takes and incredible amount of work and discipline"

Instagram/kellyripa
An Instagram user was also motivated by the video as he commented,
"[expletive]! Gotta get ripped like Mark Consuelos by summer!"

Instagram/kellyripa
While Ripa's Instagram followers were raving about the video, her daughter, Lola, 17, felt otherwise. The teen clearly did not want to see her dad's six-pack while scrolling on social media. She jokingly commented on the post,
"I just reported this."
Ripa, on the other hand, was quick to respond,
"Lola……… shouldn't you be reading a book or something?"
This was only one among many other Instagram post Ripa has of her husband. The two are not shy to show affection online, as they are very much in love. Lola has also been spotted dropping comments on her mom's PDA posts with her dad.
In another recent throwback photo posted, Consuelo had his hands around Ripa's waist, trying to imitate a prom photo. The caption read,
"#fbf 2007 Those hands."
Lola left a comment with a face-palm emoji saying,
"Is the caption necessary,"
which her mother responded with,
"Gurl bye."
With constant posts on Ripa's social media, their family is definitely one social media users look out for.
Please fill in your e-mail so we can share with you our top stories!