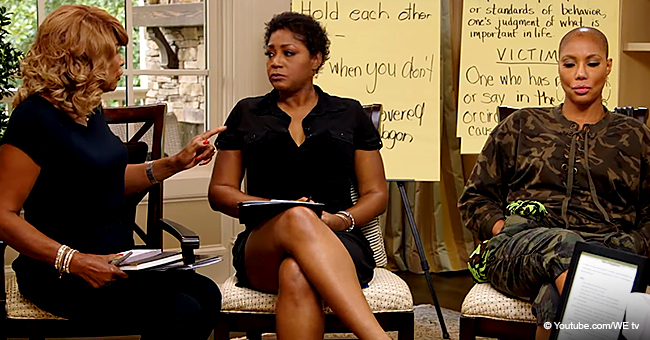 Evelyn Braxton Claims Iyanla Vanzant Picked on Tamar in 'Braxton Family Values' First Look
Iyanla Vanzant taped an explosive section with the Braxtons last year, and now, in a first look of "Braxton Family Values," matriarch Evelyn Braxton, believes the popular life coach and spiritual guru went out of her way to pick on the youngest daughter, Tamar Braxton.
Iyanla, 65, guest-starred on the famous family's reality show to help them work through some issues, but things ended up getting messy between her and Tamar, 42, who eventually walked out of the session.
In a "first look" clip of "Braxton Family Values," the sisters -- Toni, Traci, Towanda, Trina, Tamar -- discuss the therapy session while their mother registers a strong opinion about it.
MISS EVELYN GIVES HER TWO CENTS
After conceding that part of the sit-down was "okay," Miss Evelyn, as she's popularly called, emphasized that she initially did not want to be a part of Iyanla's session and accused the "Fix My Life" star of picking on Tamar.
"I don't want to hear criticism. I don't want to hear it. We can talk but every time you open your mouth, it's something negative about me and I'm supposed to [say] 'it's okay.' That's crazy. You want to know the truth? I think she picked on Tamar."
THE CONTROVERSIAL SESSION
Tamar made headlines last September after storming out during the session with Iyanla as the topic turned to her past sexual abuse. The "Love & War" singer reportedly felt Iyanla was forcing her to discuss the sensitive issues and afterward, continued to voice her dislike of the spiritual leader.
TAMAR'S CLAPBACK
"Since someone there decided that they would ask me about something so private, so embarrassing, so secretive in front of EVERYONE that was there, I felt like my life was flashing before my eyes," Tamar said of the incident in an Instagram post.
She continued:
"I felt that because this has happened to me recently, that something HAD to be done about people who DID know and tried to make People embarrassed and ashamed about something that has happened to them!!!"
THREAT OF A LAWSUIT
Tamar's disparaging comments reportedly had Iyanla thinking about taking legal action to protect her brand, and an insider revealed that the latter believes reality TV has been detrimental to Tamar's health.
Iyanla was said to be worried that that former "The Real" co-host is addicted to attention and that her tendency to always act out to get that attention will backfire and affect the entire family.
Whether there's truth to this or not, fans will get to see the Braxton family back at it when "Braxton Family Values" premieres on April 4.
Please fill in your e-mail so we can share with you our top stories!