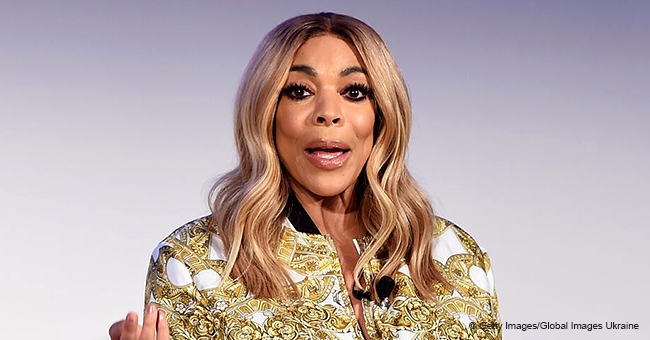 Wendy Williams Spotted without Wedding Ring Amid Reports That Husband's Alleged Mistress Gave Birth

Amid rumors that her husband just welcomed a baby girl with his alleged mistress, Wendy Williams has been spotted without her wedding ring.
Less than a month ago, the controversial TV host bragged that her ring would never come off, but it appears she might have had a change of mind.
MISSING THE RING
Williams, 54, was pictured on Monday as she left the New York sober house where she's been dealing with her alcohol and drug addiction issues for a while now.
Looking casual in a leopard-print hoodie and black leggings, what drew the most attention was her hand; not because she had a bright yellow bag in it, but because it was missing one piece of jewelry -- her wedding ring.
Although Williams had on the diamond piece hours later on "The Wendy Williams Show," the brief disappearance was enough to raise eyebrows.
A CONTRADICTORY STATEMENT
Only three weeks ago, the former radio personality debunked infidelity rumors upon returning to her show from a 2-month hiatus and assured everyone that her marriage is intact.
"I want to shout out to my husband," Williams said, adding: "I'm still wearing my ring."
She continued confidently:
"Anybody who's been married for 5 minutes or 500 years; you know marriages have ebbs and flows. Marriages are not easy. Don't ask me about mine until you see this [ring] gone and it ain't going anywhere—not in this lifetime."
REPORTS OF A LOVE CHILD
Now that Williams has been spotted without her ring, it's only expected that fans begin to worry, especially since it's happening in the wake of reports that her husband, Kevin Hunter, 47, welcomed a daughter with his alleged longtime mistress, Sharina Hudson, 33.
There were speculations last year that Hudson may be pregnant and according to blogger Tasha K of "Unwine with Tasha K," the mistress gave birth to their child on March 20 and is staying at Hahnemann University Hospital in Philadelphia.
Hunter and Hudson's affair go as far back as ten years ago, and the TV producer is said to have put Hudson through school to become a massage therapist.
WILLIAMS' CONFESSION ABOUT ADDICTION
Williams reportedly knew about the affair at the time but thought her husband had stopped seeing Hudson, and when she found out in December that wasn't the case, the TV host turned to alcohol and drugs.
Williams initially told fans that her over two months' break from the show earlier this year was as a result of complications from Graves' disease and a thyroid condition.
Last week, however, Williams got emotional while revealing she's been living in a sober house to deal with her cocaine addiction.
"Only (one person) knows about this -- not my parents, nobody. Nobody knew because I look so glamorous out here. After I finish my appointments, I am driven by my 24-hour sober coach back to a home that I live in the tri-state (area) with a bunch of smelly boys who have become my family."
"We talk and read and talk and read, and then I get bored with them," she continued. "Doors locked by 10 p.m., lights out by 10 p.m., so I go to my room and stare at the ceiling and fall asleep to come here and see you. So, that is my truth."
Williams is yet to address the brief disappearance of her wedding ring, but one can safely assume she hasn't been having the best year so far.
Please fill in your e-mail so we can share with you our top stories!