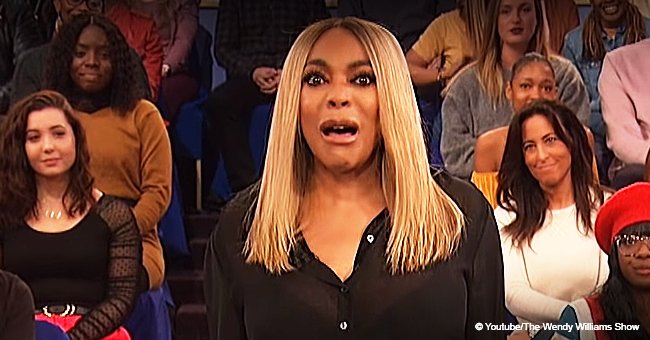 Wendy Williams Candidly Reveals She's Been Living in Sober Home after Past Cocaine Addiction
Wendy Williams opened about her truth on Tuesday's episode of "The Wendy Williams Show" by revealing she's been living in a sober house for a while. The TV host has been candid about her cocaine addiction, and she hopes her honesty can help other people going through similar situations.
Williams, 54, decided to keep it real with her audience and viewers on the last episode of her talk show.
After a two-month absence from television, which she said was related to her Graves disease, Williams has now revealed she's been calling home a sober house "for some time now, and even today and beyond."
A visibly emotional Wendy told her viewers:
"You know I've had a struggle with cocaine in my past. I never went to a place to get the treatment. I don't know how except God was sitting on my shoulder, and I just stopped. There are people in your family; it might be you, who've been struggling. And I want you to know more of the story."
She went on to give details of her daily life, explaining that, after the show, she crosses the street and goes to pilates because she likes to take care of her body. Afterward, she goes to several meetings where she meets "brothers and sisters, caught up in their addiction and looking for help," and they don't care about her celebrity status.
"They don't know I'm Wendy. There's no autographs. There is no nothing. It's the brothers and sisters caught up in the struggle," she continued.
Williams also admitted that only her husband, Kevin Hunter, and their son, Kevin Jr., knew about her living arrangements. Not even her parents were aware of the situation.
She continued:
"After I finished my appointments, seeing my brothers and sisters, breaking bread, I am driven by my 24-hour sober coach back to the home that I live in, here in the tri-state with a bunch of smelly boys who have become my family."
The boys, she said, hog the TV and watch soccer. But at the end of the day, they chat and read, and sometimes they get bored with each other. Lights are out, and the door is closed by 10 pm when she retreats to her room until the next day, where she's ready to face the cameras and fans once again.
"So that is my truth. I know, either you are calling me crazy or the bravest woman you know. I don't care," Williams stated while her audience cheered her on.
Wendy's shocking announcement comes only a few weeks after she mentioned her cocaine addiction on the show, calling herself a "walking addict."
"You know this about me. I told you I've had my bout with substance abuse," she began during her Hot Topics segment. "Once you're a substance abuse user, you have to battle that for the rest of your life. I've told you my over-ten-year ride with cocaine and crack."
And added:
"Crack is wack. I was a mess, you know, functioning, killing myself. I realized I am a walking addict. You can't just clean it up and stop it and think that it's not going to affect you. …I wasted a lot of my life burning my insides, which aren't burnt. Thank God, but You never know when it could pop up. I constantly have to watch the inside of my body because of hard partying, plus you know, the thyroid; just a mess!"
Wendy's comments on drug abuse begin from the 17:48 mark on the video below:
On top of her struggles with addiction, Wendy is also battling Graves' disease, an autoimmune disorder that causes overstimulation of the thyroid. She first opened about the issue back in 2017, after she fainted on live TV, leaving her fans worried about her health status.
The veteran host was supposed to take a two-week break on Christmas that was extended for almost two months until she finally returned to her position last month.
Please fill in your e-mail so we can share with you our top stories!