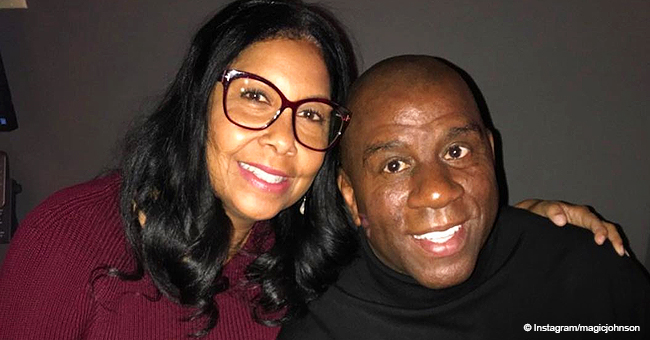 Magic Johnson & Wife Share Photos with Grandkids after They Celebrated 'Grandparents Day' Together
Legendary basketball player Magic Johnson and his wife Cookie celebrated Grandparent's Day with their two gorgeous grandchildren, Avery and Gigi.
Magic Johnson and his wife Cookie attended an event celebrating Grandparent's Day at their grandchildren's school, and proudly posted a photo and a video clip on Instagram.
"@thecookiej and I had a great time at Grandparents Day with our grandkids Avery and Gigi!"
MAGIC JOHNSON'S CUTE GRANDCHILDREN
Gigi and Avery Johnson are the children of the basketball legend's eldest son, Andre Johnson, and his wife Lisa.
Andre, 38 is the result of Magic's relationship with ex-girlfriend Melissa Mitchell, and father and son are very close, even taking family vacations together in Hawaii.
The Johnsons have recently celebrated 27 years of marriage
GRANDDAUGHTER GIGI SINGS LIKE AN ANGEL
Like any proud granddad, Magic posted a clip of little Gigi singing her heart out at the school assembly honoring grandparents. Magic can be heard on the video cheering her on, as his fans once cheered his own dazzling performances on the basketball court.
MAGIC'S MIDDLE SON EARVIN
Magic's middle child, Earvin, 26, has no children. Earvin was born in 1992 after his father was diagnosed with HIV. Fortunately, neither Cookie nor Earvin (now known as EJ) contracted the disease. Earvin is gay and enjoys his parents' wholehearted support:
"When my son came out, I was so happy for him and happy for us as parents. And we love him. E.J. is amazing."
MAGIC AND COOKIE'S GORGEOUS DAUGHTER
To round off their family, Magic and Cookie adopted a baby girl, Elisa, in 1995. Elisa, 23, appeared on Rich Kids of Beverly Hills with her brother, EJ, but she has set her heart on a career in fashion.
Elisa is attending the Fashion Institute of Technology in Manhattan, New York, and is often seen at top fashion events with her brother EJ.
MAGIC JOHNSON'S INCREDIBLE WIFE COOKIE
The Johnsons have recently celebrated 27 years of marriage, but it hasn't always been easy. On Cookie Johnson's 60th birthday Magic honored his wife:
"You are my best friend and the best wife, mother, and grandmother. As stated in Proverbs 31:28-29 "Her children stand and bless her. Her husband praises her: 'There are many virtuous and capable women in the world, but you surpass them all!'"
The family celebrated their matriarch's birthday together, and Magic has said that the 42 years that he's known Cookie have been the best of his life.
Please fill in your e-mail so we can share with you our top stories!