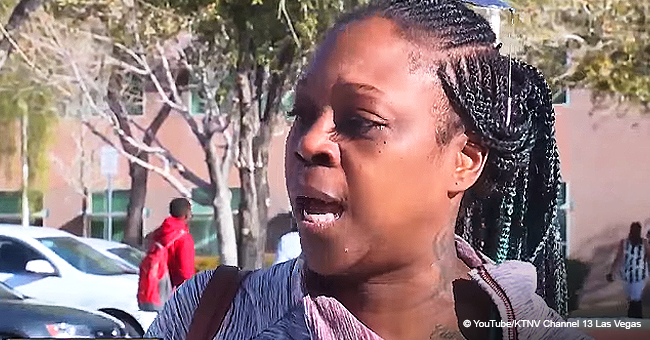 Parents Furious over Racist Threats Claiming '50 Machine Gun Waiting' for Black Students

Two teenagers were arrested and a third cited in Las Vegas in connection to their posts on Instagram account that shared racist threats against Black students.
The parents of students attending Arbor View High School in Las Vegas are demanding action on the part of the school board to address the problem of racism on campus.
Although Police have arrested the students responsible for offensive racist posts on Instagram, Clark County School District administration has yet to come up with a plan to deal with the root causes.
"Everyone is talking for us. No-one is talking to us."
VIOLENT POSTS ON INSTAGRAM SHOCK SCHOOL
The students of the Las Vegas high school and their parents were horrified to discover that a 15- and a 16-year-old had posted offensive racial comments and potentially violent threats on an Instagram page titled @arborview_nigge_rs supposedly set up as a "joke."
Some of the posts contained graphic descriptions of intended violence and photos of Black students.
The parents' concerns are more than justified, considering a recent spate of racist posts and videos shared on social media by high school students
HORRIFIC POSTS THREATEN "COLUMBINE PART 2"
The posts ranted against the Black students at the school and threatened to use violence against them:
"God just seeing these n—ers inferioates me. I just wanna go Columbine pt 2 just but only kill the f–king n—ers. I can smell the f–king melanin."
"Alright so I spotted sum wild monkeys in my lunch room and in my 50 machine gun waiting outside for them. Them n—ers gonna get it good."
The page was removed by Instagram, but screenshots of the offending posts went viral on social media.
STUDENTS FACE TERRORISM CHARGES
The Arbor View High School students responsible for the posts have been charged with making terroristic threats with a hate crime enhancement, conspiracy to commit terroristic threats, cyberbullying and breach of peace.
PARENTS DEMAND ACTION
For the parents, the arrest of the responsible parties does not solve the problem.
They have been calling for the school district to implement awareness training for staff, and to make psychological support available for the affected Black students, some of whom saw their photos posted on social media in connection with vile racial slurs and threats.
The Clark County Black Caucus responded to the incident:
"Today, Clark County Black Caucus discussed concerns of racism, bias, and school climate negatively directed at Black students in Clark County School District, with Dr. Jesus Jara (...) We appreciate his strong position to prosecute violations to the full extent of the law, and support efforts to make systemic change in AVHS school climate resulting in an inclusive school culture."
The parents' concerns are more than justified, considering a recent spate of racist posts and videos shared on social media by high school students, and even incidents involving teachers.
RACIST VIDEO ON SOCIAL MEDIA SHOCKS OREGON
The rise of racially charged posts by teens on social media appears to be a nation-wide phenomenon.
Like Arbor View High School, an Oregon City School District is having to deal with a horrific video posted by students complaining about black students enrolling in their school.
The Snapchat video was shared on Twitter by a former student named Marcus Hasan, who described himself as "sickened" by their attitudes. The Oregon City School District has vowed to take action against the two students.
Please fill in your e-mail so we can share with you our top stories!