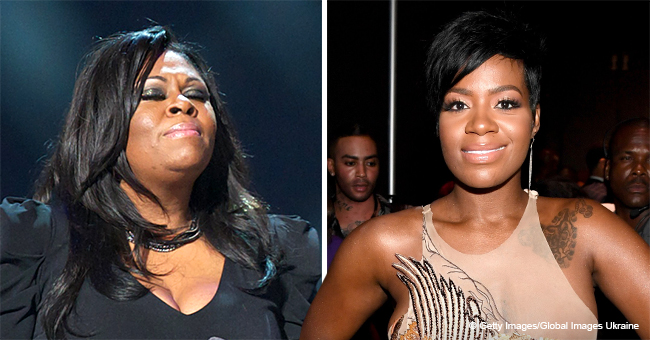 Gospel Singer Kim Burrell Goes after Fantasia Barrino and Shades Her Vocal Skills
Two years after facing intense backlash for homophobic comments, Kim Burrell is sparking outrage again for throwing shade at Fantasia's vocal skills while trying to praise another singer.
You'd think that Burrell must know by now to be careful about the things she says in public; not only did she try to put down a talented singer, but she also got her facts wrong while at it.
While speaking recently at a church, the "I See A Victory" singer sent a message of support to fellow gospel artist Le'Andria Johnson who is currently in rehab for alcoholism.
In 2017, Burrell faced similar backlash after implying that homosexuals were "perverted."
"Girl, you got this. You are anointed, you are a chosen of the Lord. The hand of the Lord is upon your life, and you're such a warrior," Burrell said about Johnson before comparing her against Fantasia.
"I was watching her sing tonight and I was just shaking my head. If they're going to make a movie about Aretha [Franklin]; if they know a real singer they'll call you. If they want to do Aretha any kind of justice. Now I like Fantasia, but she ain't no Le'Andria."
Burrell's remarks were not only tactless, but they were also inaccurate.
Fantasia did sing at Franklin's funeral last August and delivered several breathtaking tributes to the late Queen of Soul both at the Grammys and during a special tribute that aired earlier this month, but it is Jennifer Hudson who has been slated to play Aretha in an upcoming biopic.
The "American Idol" winner is yet to respond to Burrell's comments, but she may not need to, considering how many social media users have come to her defense already.
One Twitter user wrote:
"Here's my thing with Kim Burrell, throwing shade at Fantasia serves NO purpose. You were just crying about not having a Grammy, Fantasia has one. She's navigating her own path. Hypocritical Christians on the mic for no reason."
"And YET again Kim Burrell is trash," tweeted another user. "There's no reason to insult Fantasia to compliment Leandria."
"Idk [I don't know] what's worse...Kim Burrell speaking negatively on Fantasia during what appears to be a service, or the congregation egging her on and agreeing," a third person observed. "And didn't have her facts straight...smh."
Back in 2017, Burrell faced similar backlash after implying that homosexuals were "perverted" and saying they would "die in 2017."
The controversial comments resulted in Ellen DeGeneres canceling Burrell's performance on her famous talk show and radio station KTSU yanking off her show "Bridging the Gap."
Please fill in your e-mail so we can share with you our top stories!