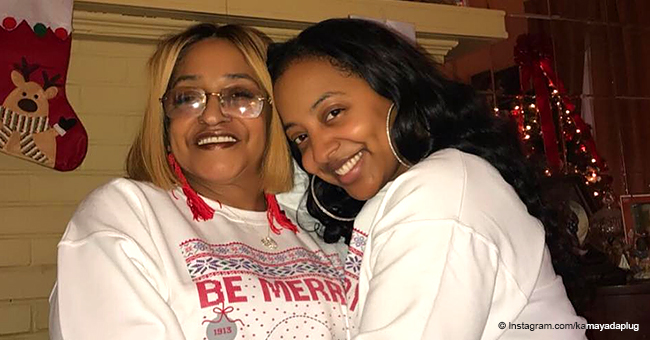 T.I.'s Niece Gets Tattoo of Rapper's Late Sister after She Tragically Passed Away in Car Accident

At age 66, Precious Harris passed away after getting involved in a fatal car accident. In a tribute, her daughter Kamaya took to Instagram to share an image of the new tattoo of her mother's face she got.
Kamaya Chapman, who lost her reality star mother on the 21st of February, shared a photo on Instagram to show off her new tattoo. The picture is of her arm bared to show off a smiling Precious Harris.
We have to applaud the tattoo artist as the inking looks a lot like Precious. Kamaya knows this too as she captioned the photo with warm words of appreciation that read:
"Shouts out to @vanjohnsonofficial for tatting my mama on me."
Full of humor, she also went on to predict what Precious would have said had she seen the tattoo:
"Lol, I love it so much lol even tho I know she up there like "now why in the hell would you tat my face" she hated portraits, but I had to #LongLivePrecious."
Since she posted the photo, it has garnered attention with over 65,000 likes. Fans also swarmed the comments section with compliments, as well as, encouraging words for Kamaya. The mother and daughter had a tight bond, and Precious' demise dealt the youthful beauty a huge blow emotionally.
While speaking to "Hollywood Life," Kamaya described her relationship with her late mother by saying she was her "everything." Precious passed away after being in the ICU for a week following the accident.
A grieving Kamaya announced the sad news:
"She was everything, can't even put it in words. She passed today."
Kamaya also posted an emotional message on Instagram, and it reads:
"From my best friend on earth to My beautiful angel in heaven…I love you so much. I'm so heartbroken but the way you looked so @ peace this past week has confirmed that you are resting… no more asthma attacks… damn but baby I am going to miss you."
The entire Harris family have expressed their grief in different forms with American rapper T. I. also taking to social media to talk about the great relationship he had with his big sister.
The demise came as a massive shock especially to fans of the TV personality and considering how famous she'd been; it wasn't surprising when rumors of her death broke even before her passing. Kamaya especially had a hard time which pushed her to blatantly refute the hurting rumors by saying "the fight isn't over yet!" Now, it seems like she is finally healing and with the tattoo, Kamaya can keep her mother close at all times.
Please fill in your e-mail so we can share with you our top stories!