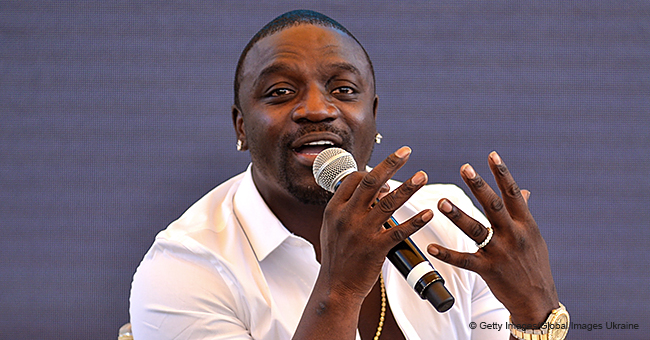 Akon's Music Executive Brother Once Explained Why He & Diana Ross' Daughter Tracee Ellis Broke Up
Abou "Bu" Thiam, the brother of the famous singer Akon, was in a relationship (and broke up) with the daughter of the living legend Diana Ross, Tracee Ellis.
While Bu is not as popular as his brother, he has achieved many things in the music industry, too. One of them was becoming the youngest Vice-President of A&R for Def Jam Records – he was only 28 years old.
So far, the man has worked with artists as prominent as Chris Brown, Rihanna, Jay-Z, and T-Pain. He has made some headlines regarding his love life, too, as he dated Tracee Ellis Ross between 2011 and 2013.
BU AND TRACEE ELLIS AS A COUPLE
During that time, the couple could be seen together having a good time in clubs and not being shy about their romance, what made people believe that they were going to last as it was Tracee's first public boyfriend.
Tracee was one of the most "unconditional," "loving," "spirited," and "good" girlfriends Bu has ever had.
THE REASON THEY ARE NO LONGER TOGETHER
Things didn't go as expected, though, and it was Bu who finished the relationship. In an interview with the "Breakfast Club," he revealed why he did it, but also let everybody know that he might be still in love with her.
Bu admitted that both of them would be lovers forever and that they had a genuine and unconditional relationship, adding that anybody who would enter in his or her life would have to know and accept so.
Later, he said why they were no longer together:
"I believe that being with somebody… it's like managing… it's a real job. It's a real responsibility. … And she's in a place in her career that if I can't give her all of me, I don't wanna waste- not… waste her time- but I don't wanna put her in that space. … So why not give her opportunity to find somebody else that can [sic]."
HIS THOUGHTS ON THE ACTRESS
Bu also pointed out that Tracee was one of the most "unconditional," "loving," "spirited," and "good" girlfriend he has ever had, though the man emphasized that he didn't want to discredit the other women he had dated. Bu's conversation about Tracee starts at the 8-minute mark in this video.
Diana Ross' daughter addressed several aspects of her life during an interview with Glamour. One if it was her sexuality, revealing that she felt identified with the term "sex-positive."
BEING HAPPILY SINGLE
"[For me] the answer to the objectification of women and black women in our culture is not to shut down my sexuality but to own it as something that is mine," confessed the actress.
Apart from that, she admitted that it was "fascinating" to be then-45 years old and "single and childless." Tracee remarked that she was happily single, though, so a reunion between her and Bu might not be on the horizon.
Please fill in your e-mail so we can share with you our top stories!