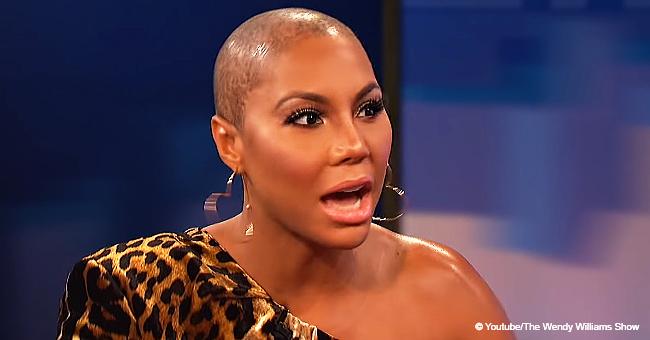 Tamar Braxton Blasts Sisters for Ruining Birthday, Especially Trina's Man Who Used Party to Propose

Tamar Braxton reveals her disappointment on her Instagram live as she complains about her lackluster birthday celebration which was also overshadowed by her sister Trina's engagement that same night.
Tamar Braxton didn't have a happy birthday, or so it seems. Just as she called it quits with her boyfriend, she accuses her sisters of not doing enough to celebrate her turning 42.
In an Instagram live clip, Tamar expressed her disappointment because she felt like nobody made "a big deal" of her birthday. The clip started with the recent winner of "Celebrity Big Brother" looking bored and displeased while her family in the background appeared to be laughing and having a good time.
A few seconds later, she goes off on her siblings and tells them what she truly felt.
"I just feel like for everybody else's birthday we make a big deal out of it. It's at least a balloon, one balloon, an array of gifts, more than one card, when it's 40,000 Braxtons walking around here looking like "Where's Waldo." And because it's mine I got a pair of sunglasses and a birthday card. Happy Birthday b****. Okay!."
Tamar wouldn't hear it even when her sister Trina assured her the night wasn't over and Toni added, "Levels. We're not done yet though...Don't miss your blessing. You got levels to it."
"I don't want to be in a hot air balloon with seven people. Everybody knows I'm afraid of heights. Ray Charles can see that," Tamar responded irritably.
And while she felt unimportant enough, Tamar had to deal with her sister Trina's engagement which also happened that night. "This ain't the time or place for this," she told her Instagram followers clearly upset that Trina's fiancé stole her thunder.
Tamar's annoyance may also be stemming from her recent break-up with her Nigerian boyfriend, Yemi. She confirmed this when she posted a message on her Instagram story advising people to "Trust No ONE" and a follow up that read, "I'm single…ready to mingle tho."
It was only a few days back when the now ex-couple appeared to be enjoying at a party where Tamar sang impromptu and her Yemi danced along. Now it seems the footage from that party which Tamar shared is now old news.
Please fill in your e-mail so we can share with you our top stories!