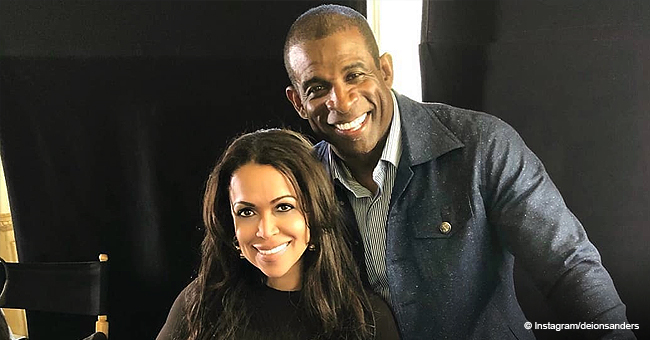 Deion Sanders Reveals Why He Finally Proposed to Tracey Edmonds after 8 Years Together
Fans of Deion Sanders and Tracey Edmonds learned in February that the couple got engaged after eight years together. Factoring in a few important things, Deion explains he felt it was the right time.
Deion Sanders recently opened up about the circumstances that led to his engagement to Tracey Edmonds in the podcast, Journeys of Faith with Paula Faris. Joined by his bishop, Omar, he first disclosed that the announcement was made a month later than when he actually proposed.
"I think the world got in a little late. It happened you know, on the first of the month, actually. But I think she disclosed it probably a month later. Yeah, it's been a while ago. It's a blessing."
Asked why he decided to take the next step, Deion says it was a combination of being ready, their respective kids and the factor of distance.
The sports analyst said that because each of them had their own children and demanded their attention, he had to wait until he and Tracey could permanently be together physically.
"I didn't believe in long-distance marriages, number one. Number two, her kids graduate – her youngest son – graduates this year. My son, who lives with me, my other two live with their mother. He's a sophomore now, so he has two more years. So just thinking all that through, walking all that through and making sure we do the right thing, because I don't believe in long distance, so there's gonna have to be sacrifices made on both sides. And oftentimes one is not willing to make sacrifices, but one must grow."
Deion was previously married to Carolyn Chambers from1989 to 1998. They share two children together. In 1999, he married Pilar Biggers-Sanders and had three children with her. Their marriage ended in 2013. Meanwhile, Tracee was married to Babyface from 1992 to 2005 and they have two sons. She was briefly engaged to Eddie Murphy but called it quits in 2008.
Tracey and Deion began dating in 2012. On Valentine's Day, Tracey announced, "We're 8 years in, made it through the storms TOGETHER, and will be spending the rest of our lives TOGETHER!" She shared a throwback pic of the two of them and inspired her followers to "stay REAL with each other, LISTEN to each other, and MOST of all.. keep LOVE and GOD in your heart" as she delivered the good news.
It was the announcement fans were expecting after Tracey was spotted wearing a ring weeks earlier. Now everyone's waiting for when the big day finally happens.
Please fill in your e-mail so we can share with you our top stories!