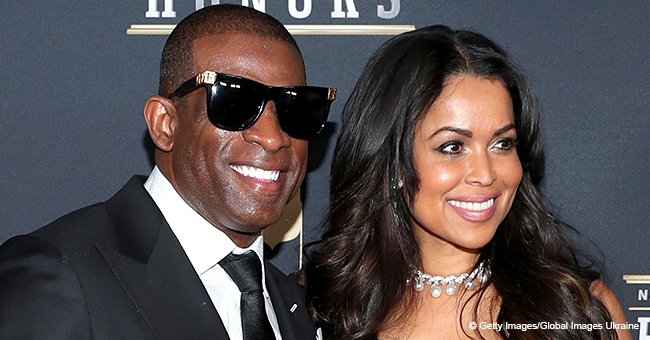 Tracey Edmonds confirms engagement to longtime partner Deion Sanders in heartwarming post

Following increased speculation from fans, Tracey Edmonds has finally confirmed in a touching post that she's engaged to her longtime partner, former NFL superstar Deion Sanders.
Lovers around the world celebrated Valentine's Day yesterday, but for Edmonds and Sanders, the day meant a little more, because it was their first Valentine's as an engaged couple.
The former "Extra" host shared the good news with fans and well-wishers on Instagram alongside a throwback photo with Sanders, 51.
"Happy Valentine's Day Fam!" Edmonds wrote in the caption before going on to reveal the big news:
"Sending LOVE to MY LOVE/MY FIANCÉ @deionsanders! God is SO GOOD! We're 8 years in, made it through the storms TOGETHER, and will be spending the rest of our lives TOGETHER! Thank you to our brother @revjahwar and our sister @tferg3! We love you two! Thank you for always being by our side! To all the couples out there... stay REAL with each other, LISTEN to each other, and MOST of all.. keep LOVE and GOD in your heart. When you do, you can make it through ANY storm! Spread LOVE and JOY on this day!"
FUELING ENGAGEMENT RUMORS
Earlier this month, the mom-of-two sparked engagement rumors after posting a loved-up photo of herself and Sanders in which she was wearing what looked like an engagement ring.
"Congratulations Sis," said one fan on Instagram, even though the news wasn't confirmed. "We see the ring, and we are loving it."
"So glad to see you two together again," chimed in another. "I know you both have crazy busy schedules and miles away from each other but glad Love always wins."
SANDERS WILL MARRY HER...ON ONE CONDITION
Back in 2015, Sanders gave the only condition under which he would marry Edmonds, 51. The sports analyst was on "The Rickey Smiley Morning Show" and said:
"I'm gonna marry real soon, once we get in the same city. I don't believe in long-distance marriages. I could condone a long-distance relationship, but there's not gonna be a long-distance marriage."
PREVIOUS MARRIAGES
This will be the third marriage for Sanders who was previously married to Carolyn Chambers, with whom he shares two children, and Pilar Biggers-Sanders, with whom he has three kids.
Edmonds was once married to famous R&B singer Kenneth "Babyface" Edmonds from 1992 to 2005. They have two sons, Brandon and Dylan.
ONE EX IS HAPPY WITH THE COUPLE
Babyface previously made it known that he's in support of his ex-wife's relationship with Sanders.
"I knew that Deion, Mr. Prime Time, seems like a nice guy," Babyface shared in a 2013 interview. "But he became a classy guy when he called me and said he didn't want to meet my children until he sat down and had lunch or breakfast with me, so he knew me before he met my children."
Congratulations to the newly-engaged couple.
Please fill in your e-mail so we can share with you our top stories!