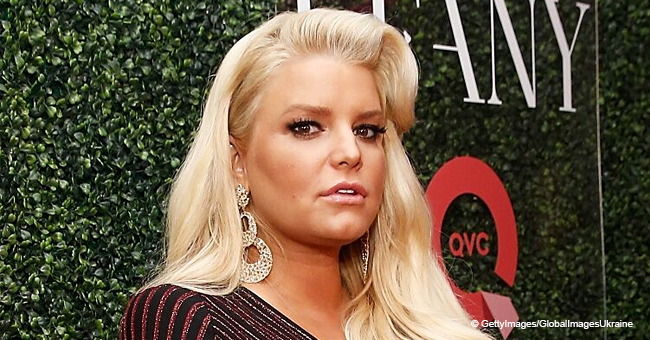 Here's How Jessica Simpson Recovered after Giving Birth to Her Almost 11-Lb Daughter
It might have been a difficult pregnancy for Jessica Simpson, but she has "the best attitude" while recovering and "savoring every minute."
The singer turned entrepreneur gave birth to Birdie on March 19 via cesarean and together with her husband Eric Johnson, 6-year-old Maxwell and five-year-old Ace, they are now a happy family of five.
According to sources close to Jessica, she is recovering well after an arduous pregnancy which she shared with fans over the last nine months.
Jessica had everything from severe acid reflux to sciatica including massively swollen feet and a bout of bronchitis which landed her in hospital.
The source added that Jessica and the baby are doing very well. "Birdie is perfect, and Jessica is savoring every minute. Her family has been back to visit at the hospital, and they are elated by the new addition to the clan. They are just soaking it all in," the source said.
Newborn Birdie's siblings couldn't stay away from the hospital and already doting on their baby sister, while Jessica took a few days to recover. "She had the best attitude about her recovery. Birdie is perfect, and Jessica is savoring every minute," the source added.
Jessica gave birth at Cedars-Sinai Hospital in a $4,000 per night luxury birthing suite in Los Angeles.
The impressive suites boast with two luxury bathrooms that include a full-sized tub, a lounge, multiple beds for visitors, a meal delivery plan, a personal doula available at any time, and a flat-screen TV connected to the hospital's Wi-Fi.
However, six-year-old daughter Maxwell lost her title as the biggest baby in the family to newborn sister Birdie. While Maxwell weighed 9 lbs. 13 oz at birth, Birdie weighed in at a whopping 10 lbs. 13 oz.
None the less, both Maxwell and Ace adore their new sister. "They can't get enough of the baby. Everyone is very happy," the source said.
The day after Jessica gave birth, she posted a touching picture on Instagram of big sister Maxwell with Birdie as she had her tiny hand wrapped around Maxwell's finger.
Jessica and Eric decided upon a name for their third child long before she was born and revealed their second daughter's name during her fairy tale "Birdie's Nest" baby shower in January, also a family name on Jessica's side.
When Jessica spoke to ET in October last year, she also spoke of her excessive cravings. "I crave everything!" she relented. "It's like, with a girl, I just want, like, Pop-Tarts and cinnamon rolls and cinnamon gummy bears and sour cherries. Bring it on!"
In February, Jessica posted a video on social media and got slammed by netizens for looking bloated on social media, as if she didn't have a hard enough time as it is.
Please fill in your e-mail so we can share with you our top stories!