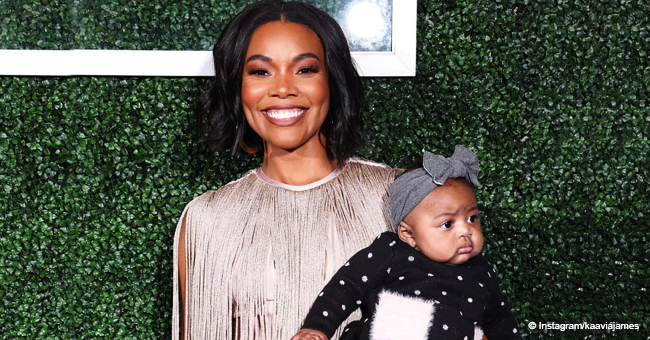 Gabrielle Union's Daughter Has Hilarious Staredown with Family Dog in Adorable Picture
Kaavia James is asserting her dominance as the cutest baby in the Wade-Union household in a new pic shared to her Instagram, as she stares down Tre Wade, one of the dogs of the family.
Gabrielle Union and Dwyane Wade's daughter is already an Instagram star. She recently celebrated reaching her 500,000 followers milestone, and every one of her hilarious pics is filled with thousands of likes and comments from enamored fans.
Kaavia James earned the nickname of "shady baby" thanks to her serious but hilarious facial expressions. And those, combined with her mother's witty Instagram captions, have become the perfect recipe to keep fans entertained.
WADE BOSS BABY
In one of her recent photos, Kaavia made perfect use of her serious look, as she engaged in a stare down with Tre Wade, the family's two-year-old French bulldog. In the shot, Kaavia is comfortably resting on a baby walker, while the curious dog sits in front of her.
"If this dog thinks he's gonna out cute me, he's got another thang comin," read the caption of the post.
Fans were quick to fill the comment section to gush about the adorable snap, with most agreeing that no dog could ever beat the girl's cuteness.
"Omg, she is not scared of this dog. She looking at the dog like what you gonna do lol," wrote one user.
Another added, "Totally impossible to out cute you!! Not with those cheeks! Baby wins hands and paws down."
And a third one chimed in saying, "Even the dog gets treated to Miss Kaavia's mean mug!"
UNION OPENS ABOUT MOTHERHOOD
Kaavia, born in November through a surrogate, has taken front and center on her parents' lives and social media pages.
She recently made her model debut on the cover of Parents magazine alongside Gabrielle, and the proud working mom made sure to share some details about her cute baby girl.
"When I ask her a question, Kaavia responds with a lot of animation, and she'll pause so you can ask her more," Union said. "She follows along, but she doesn't do baby talk. When people talk baby talk, she gives shady-baby looks."
Facing motherhood for the first time at 46, Union says it was hard getting used to her baby's cries at first. "Kaavia went through a phase of not napping," the actress recalled. And added,
"I was like, 'When do I shower or pee or live?' So I had to get a little comfortable with her crying, which I had not been. And then I took the quickest shower of all time!"
HANDS-ON DADDY
Kaavia is Dwyane's fourth child and first daughter. He already has sons Zaire, 17, and Zion, 11 from his previous marriage; son Xavier, 5 with an ex-girlfriend; and he's also raising a 17-year-old nephew, Dahveon.
So, the NBA star had his fair share of experience when it came to babies.
"Dwyane is like a stage mom," Union said of her husband's role in Kaavia's life. And continued:
"He's very hands-on. When he's in Miami, and we're in Los Angeles, he wants to know everything, from her poops to what outfit she's wearing."
Back in November, Wade took a two weeks' paternity leave to stay with his girls at home, something odd when it comes to new fathers in the pro-sports world.
Still, Kaavia spends most of her time with Gabby, whether it is at home or on the set of "L.A's Finest," Union's upcoming TV series.
Please fill in your e-mail so we can share with you our top stories!