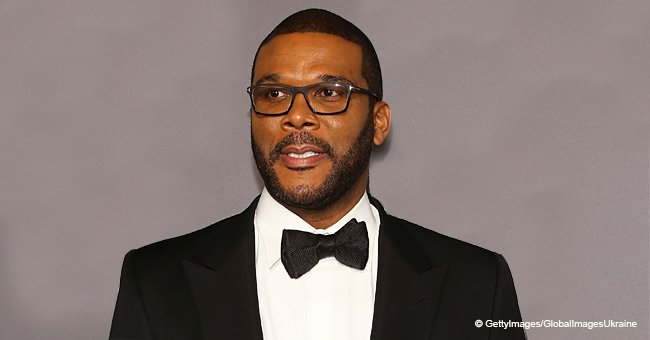 Tyler Perry Would Rather 'Swallow Spit and Die of Dehydration' Than Buy This $9 Water
Producer, and actor Tyler Perry has strong opinions about the new $9.00 bottled "Fiji" water. Water is as essential to human as air itself, and if this water is the last thing stopping the comedian from death, he will choose to die.
Perry shared his frustration with "Fiji" on his Instagram page with a catchy image and caption that's got everyone talking.
According to the narrative in the caption, the "Madea" actor was in a hotel in Minneapolis on Madea's Farewell Tour when he noticed the bottled water and the prize boldly written on it.
The actor who clearly thinks the price is outrageous took to his Instagram page to share his frustration. Tyler Perry captioned the image showing two bottles of Fiji water on his hotel table,
"I'm in hotel in Minneapolis on Madea's Farewell Tour!! I saw this and got mad as hell. They can't be serious right?! NINE DOLLARS!! NINE DOLLARS!!! What the hell this water do, cure cancer? Make hair grow? Did Jesus bottle it when he met that woman at the well? Y'all got to be kidding me. I will swallow spit and die of dehydration before I pay 9 dollars for a bottle of water!! GTHOH!!"
Although Tyler Perry was trying to make a significant point, it is hard not to notice the humor in his caption.
The 49-year-old's remarks about Jesus having bottled the water or if the water cures cancer is a jab at how ridiculous he genuinely thinks it is to pay such an amount for a bottle of water.
And the last line, suggesting that he would rather die than have the water is undeniably the funniest comment ever.
Fans of the actor took to the comment section to comment on his post and enforce the message Perry was trying to get across; the water is absurdly expensive. Some even commented that selling for this price is an "act of robbery."
The water company and the Minneapolis hotel, the comedian, lodged in is yet to say anything regarding Tyler's post.
Please fill in your e-mail so we can share with you our top stories!