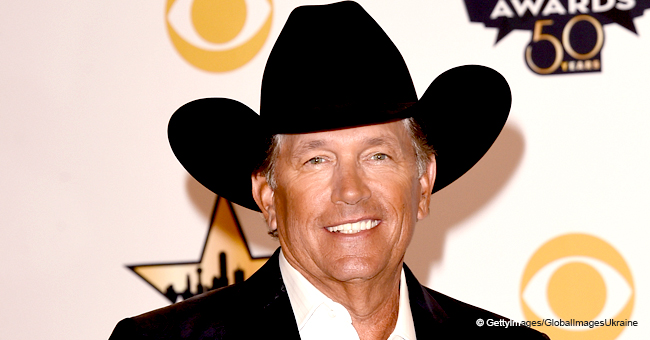 George Strait's New Album Contains Beautiful Songs Recorded with His Grandson and Willie Nelson
American country music singer George Strait is known as the "King of Country", and he just released a new and memorable album where he collaborates with legend Willie Nelson and his 6-year-old grandson for the very first time.
Strait's newest offering called "Honky Tonk Time Machine" has thirteen tracks, and he proudly co-wrote eight of them. Talents including his son Bubba Strait, producer Dean Dillon, Jeff Hyde, and country great Willie Nelson are heard on the much-awaited new album.
"It's been about two years since I've released a record. It was great writing with Bubba and Dean again and creating such a beautiful song with Bubba and Jeff Hyde. Also, it was a very special thing for me to be able to write and sing one with the legend, Willie Nelson. I hope everyone enjoys listening to 'Honky Tonk Time Machine' as much as I enjoyed making it."
And the recording experience for this album was made extra fun by the participation of 6-year-old Harvey, Strait's grandson. He said,
"When I recorded this record, we did it in Key West, and I had my grandson down there with me. We went every day to the studio, and so he'd have to get his charts and lyrics and follow along with everybody else. But we ended up putting him on the song 'God and Country Music', and he's there on the end of it. It's the first time I've ever got to sing with my grandson; maybe it's the first of many."
The patient and proud grandpa shared this about Harvey,
"It took us several takes. I went in there, and I kind of did it with him, and then I would kind of back out and leave him, and so that's how it worked out. But he was all for it. He was all about doing it. He got really involved in that record. For six years old, that's pretty good."
Strait was equally proud of making country music history with the iconic Willie Nelson. Together, the country stars debuted their song, "Sing One With Willie" before releasing the album, at the Bridgestone Arena in Nashville, Tennessee in January.
Nelson, 85, and Strait, 66, wowed the crowd that night, and online fans who watched the video, also shared in the thrill of seeing the pair on stage together, with one saying,
"Doesn't get much better than this!"
Please fill in your e-mail so we can share with you our top stories!