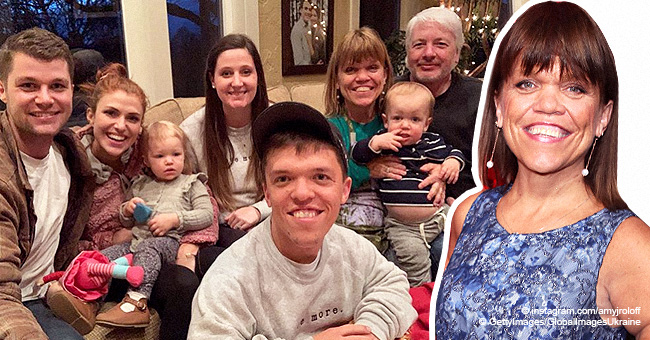 Amy Roloff's Heart Is 'Happy' as She Shares a Rare Family Photo, and Their Smiles Are Warming
Amy and her family look absolutely radiant in a recent Instagram picture where she gives us an intimate peek into a Roloff family dinner, including the grandchildren and boyfriend, Chris Marek.
Amid growing controversy among "Little People, Big World" fans regarding Chris, Amy Roloff's recent Instagram share revealed a family united.
Tori and Zach, Audrey and Jeremy, and grandkids Jackson and Ember all look happy to be present at family dinner and Amy is clearly in her element.
The picture shows Amy and Marek sitting on the far end of the couch, both of them holding baby Jackson whose little belly is poking out of his outfit.
Fans are thrilled to see the family so content and happy with each other, even though some of them still believe Marek is around solely for Amy's money.
It seems while the family has happily moved on from Matt and Amy's split, the fans aren't as eager to let go of their dreams.
Matt appears to be enjoying life to the fullest with his partner Caryn Chandler who works at Roloff Farms, so it's only fair that Amy is given the freedom to pursue her own love life without regrets.
Chris and Amy have been dating for over two years. He has become a regular sight on social media and on the show and deserves to be treated with respect as Amy's chosen partner.
The recent teaser for the new season promised sparks as the show comes face-to-face with the divorced couple and their new partners as they get into their new roles on the Farm.
Season 14 is all about deciding the fate of Roloff Farm and determining if the former married couple can continue working together when their separate lives and new relationships seem destined to pull them apart.
With the show premiering this week on TLC, fans will surely be seeing a lot more of the mixed couples than ever before, whatever fans' personal views are about them.
With talk of engagements and buyouts and leaving the farm, tensions are running high in every direction. This is not going to be a season to miss.
Please fill in your e-mail so we can share with you our top stories!