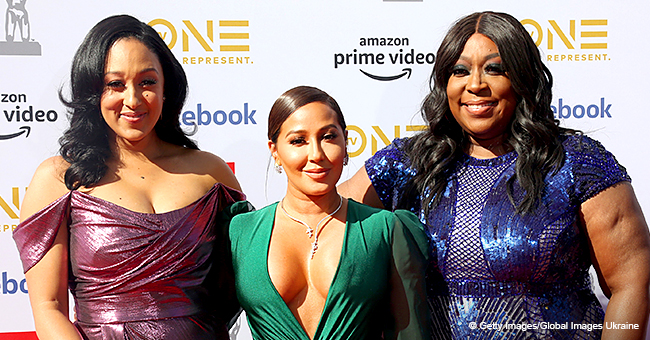 The Ladies of 'The Real' Look Incredible in Long, Elegant Dresses at NAACP Image Awards
Tamera Mowry, Adrienne Houghton, and Loni Love stunned in elegant long dresses at the red carpet of the NAACP Image Awards. The girls shimmered and showed some legs in a photo of the three of them together.
The hosts of "The Real" slayed on the red carpet during this year's NAACP Image Awards. Tamera Mowry, Adrienne Houghton, and Loni Love stood tall as they showcased their stunning gowns.
QUEENS OF DAYTIME TV OWN THE RED CARPET
A photo of the three hosts standing side by side at the red carpet proves these women are more than just queens of daytime talk. They are fashion icons to reckon with.
Tamera in a shimmery pink gown with a thigh-high slit looked elegant as she towered over her equally glamorous co-host, Adrienne who stood next to her. The singer wore an emerald green dress with large translucent sleeves while also showcasing a leg with her high slit. Meanwhile, Loni glimmered in blue as her dress took her body shape and emphasized her curves.
JAY-Z BAGS TOP AWARD
The ladies joined a slew of other stars who descended that night to witness the 50th year of the popular awards show which honors the accomplishments of people of color in the fields of film, television, music, and literature. Individuals who make an effort to promote social justice through these channels are also acknowledged.
This year's President's Award was given to Jay-Z for his role in promoting awareness about social issues affecting the Black community. In a statement NAACP President Derrick Johnson released to announce Jay-Z's distinction, he said,
"Shawn Carter has been committed to shedding light on the issues that plague the black community including systematic racism and unjust treatment under the law, utilizing his global platform to create everlasting change. There is no better time than now, as we celebrate our 50th year, to honor him with this award."
Accepting his award that night, Jay-Z first dedicated it to his grandmother Hattie White as he quoted from Abraham Lincoln. He also credited the strong women he grew up with who instilled in him the idea that he could do anything. Likewise, he dedicated his accomplishment to his wife, Beyonce, who he described as "a beautiful woman in my life" and who also bagged the Entertainer of the Year Award that night.
CHRIS ROCK SLAMS JUSSIE SMOLLETT
The awards show didn't go down without controversy, though. Chris Rock, against producer's wishes, went after Jussie Smollett and deemed him "a waste of light skin." Presenting an award that night, Rock slammed the "Empire" star who was recently waived of all charges in relation to an attack on himself he allegedly staged. Rock says Smollett lost his respect.
"You a Jessie from now on. You don't even get the 'U' no more. That 'U' is respect; you ain't getting no respect from me."
Smollett was nominated for Best Supporting Actor for "Empire" but was a no show that night.
Please fill in your e-mail so we can share with you our top stories!