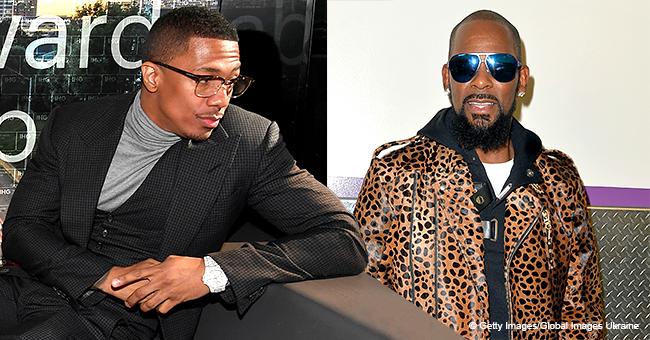 Nick Cannon Spills Details on His Experience of Working with R. Kelly in Controversial Studio

Nick Cannon reveals how it was like working with R. Kelly in the alleged studio where a lot of the sexual misconduct happened during an interview, explaining how he would not have tolerated it if he saw something wrong firsthand.
During an interview that the TV host had with VladTV, he shares how he felt after watching the controversial docu-series called "Surviving R. Kelly," and what it was like working in the disgraced singer's Chicago studio.
"When you go to his studio, you don't see anybody else. If I would have seen some little girls in the studio, I would have been like, "I'm out.'"
While he never saw anything suspicious in the studio, he did reveal that Kelly would leave the studio for long periods of time to return hours later with barely any explanation.
CANNON'S CALL TO ACTION FOR THE GENERAL PUBLIC
Cannon also shared that the general public should condemn the famous singer for his wrongdoings, and celebrities should not take the situation lightly and make jokes out of something so serious.
"As fans, as the public, as the people close around him, we got to take responsibility for letting this man that was super talented operate in a way that was just inhumane. Even in the documentary, the stuff that they show from the tape, like him standing over a 14-year-old girl and urinating on her—Dave Chappelle was making jokes about that. As a father with a daughter now, there's nothing funny about a grown man urinating on a little girl."
R. KELLY AFTER THE "SURVIVING R. KELLY" DOCUSERIES
R. Kelly allegedly received medical care after undergoing several panic attacks after the release of the controversial docuseries.
Days before the release of the Lifetime show, Kelly began to feel pressure and had doctors visit him at home. However, after it aired, he allegedly exploded that he was rushed to the hospital for treatment.
Kelly's stress levels skyrocketed due to the outpour of hate that he's been getting from celebrities and the general public. They called out the singer for being a predator of underage girls.
Pressure from continuous condemnation bombards Kelly every day, especially with people talking about his controversial sexual assault allegations regularly.
Please fill in your e-mail so we can share with you our top stories!