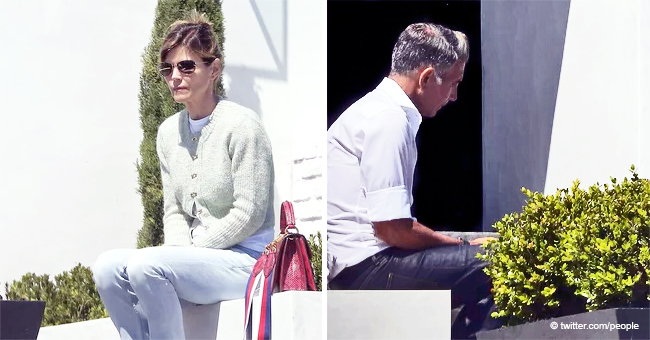 Lori Loughlin and Husband Seen Out for the First Time Since College Bribe Scandal Began
For the first time since the college bribe scandal was exposed, co-accused Lori Loughlin and her fashion designer husband were seen out in public. The couple was photographed in Orange County while visiting friends and family.
The two appeared tense and uncomfortable with one image showing Loughlin biting her nails.
On Thursday, actress Lori Loughlin, 54, and her husband Mossimo Giannulli, 55, were seen in California waiting outside a house. The pair was indicted and arrested for their alleged involvement in the college admissions cheating scandal.
The couple was charged with a felony of conspiracy to commit mail fraud and honest services mail fraud. As they sat and spoke together last week, the couple appeared tense.
In one shot, Loughin was photographed sitting on a wall biting her nails while wearing black sunglasses. Her husband sat facing her as they talked.
The former "Full House" and "Fuller House" star was released on a $1million bond on March 13. Giannulli was also released on the same bond amount the day before his wife.
Eventually, the pair were greeted by friends and sources revealed that they spent several hours with loved ones. Another insider shared that the couple's daughters were "laying low."
Olivia Jade, 19, and Isabella Rose, 20, were at their house in Bel Air, California. Reports state that Loughlin and had not left their home since the scandal broke.
They will appear in federal court in Boston on April 3. Their attorney had asked the judge to delay the hearing until April 15, because of scheduling conflicts after the pair was initially scheduled to be in court on March 29.
The couple faces charges for allegedly paying $500,000 in bribes to get their daughters into the University of Southern California (USC). Olivia has lost major partnership deals with Sephora and TRESemme after her parents were charged.
Both girls have since dropped out of USC. Their parents allegedly emailed William Rick Singer, the mastermind behind the college bribery scandal, for assistance in 2016.
Their daughters were then admitted to USC as crew recruits by Singer and USC senior associate athletic director Dr. Donna Heinel. However, neither child was listed on the university's women's rowing roster.
In March 2017, Isabella received her admissions letter and her parents repeated the same process for Olivia.
On Saturday, a video was taken of Loughlin leaving her yoga session in Brentwood, California. The videographer asked if she would comment on the scandal.
Her response was:
"I can't talk to you. You can follow me around all day if you want, but I just can't comment right now. But thank you for your time."
Please fill in your e-mail so we can share with you our top stories!