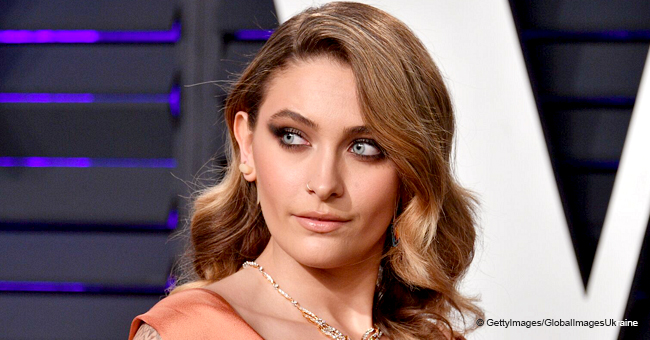 Paris Jackson Shares Rare Pic of Kissing Her Mom while Flaunting Her Singing Skills at a Concert
Paris Jackson recently performed in LA after alleged suicide attempt at a party. Her mom, brother, and boyfriend were all in full support during her show with her band.
Paris Jackson, daughter of the late King of Pop, Michael Jackson, recently performed with her band. Jackson, 20, sang at the Mint Club in Los Angeles for a gig she had with "The Soundflowers," in which her mom, Debbie Rowe, brother, Prince, and boyfriend, Gabriel Glenn were present to support her. The 20-year-old also posted a photo of her and her mom kissing, after the show.
Jackson sported red flared trousers, a white halter top, and had a colorful scarf around her neck. Her boyfriend matched her in a white button-down shirt with multiple beaded necklaces.
"Paris was in a fantastic mood Saturday. Music is really an emotional outlet for her, so whenever she has the opportunity to perform -- it is when she truly shines and is in a good place,"
A source shared with E! News.
"Paris knows she has a lot going for her right now, so she is excited to just take the right step and get back on track. She has several modeling and music gigs in the pipeline, and her birthday is on Wednesday, so things are looking up from just a few weeks ago."
Prior to the performance, Jackson was in the hospital for injuring herself. According to reports, she cut herself with kitchen scissors amidst a party that took place after the "Leaving Neverland" documentary airing, which focused on the sexual abuses of her father.
While reports say Jackson attempted suicide after the premiere of the documentary, her close friends say otherwise. In an interview with Daily Mail, her friends disclosed that the singer just cut herself, but did not try to take her own life.
She was also said to have been acting wild at the hospital, hence the decision of medical staff to keep her for three days.
According to a source from Daily Mail,
"The problem with Paris is that the way she has been brought up makes her very mysterious even to close friends who speak to her everyday."
"She lives by this mantra that her dad told her which is 'truth is fantasy and fantasy is truth.' Michael always told her to keep things private and keep people guessing,"
The source continued.
"So she has intentionally not been clear about what happened on the night. But nobody in her inner circle is worried that she is suicidal -- they all think this is typical Paris just partying a little too hard."
Paris is one of the two children Michael and Rowe had together. Rowe was his second wife, married from 1996 to 1999, following his marriage with Marie Presley. In line with the divorce, Rowe received an $8 million settlement or a number near that figure.
Rowe apparently offered to bear the children of Michael, in which he agreed. After their divorce, she disclosed why she gave him sole custody to his children.
She told ABC:
"Michael wanted to be a father. I didn't sign on to be a mom. I loved him very much and I still do. I wanted to him to be a father, to have everything he didn't have growing up, to experience it with his own children,"
Currently, Rowe resides in Palmdale, California with her fiance, Marc Schaffel who is both a music producer and old friend of Michael.
Please fill in your e-mail so we can share with you our top stories!