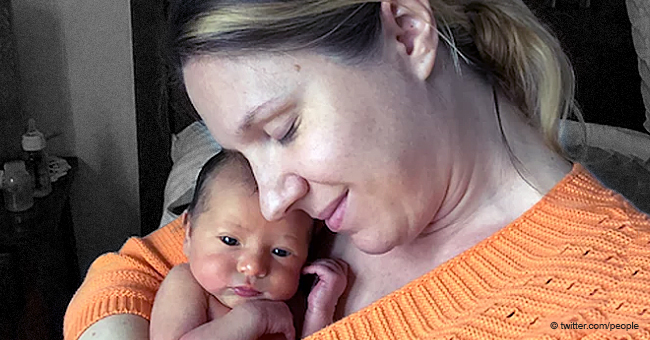 7-Week-Old Toddler Died after Doctors Couldn't Detect an Infection: 'It Was Too Late for Evi'
A mother is sharing the story of how her newborn child died after she was neglected at a hospital. The baby was wrongfully diagnosed and died later of an infection.
In a Twitter post, Evianna Rose's mother shared how her baby had died from bacterial meningitis in an effort to build awareness about the infection.
Ginger McCall, 35, and her husband, Omar Quintero were excited to have their baby girl when they found out they were pregnant. McCall shared, "We dreamed of climbing mountains with Evi, of sharing our love of nature with her."
The Salem, Oregon resident also added, "Our pregnancy announcement was a picture of us atop a mountain with our 10-week sonogram." However, none of this would happen as their 7-week-old daughter died before she could even turn 1.
On March 15, Evianna (Evi) Rose started becoming sick. McCall explained, "As soon as I woke up, I could tell something wasn't right. She was making a distinctive sound, like a weak cry or grunting."
The child was showing signs of having the bacterial infection Group B Strep. Evi's mother and McCall's mother-in-law rushed her to Salem Hospital's emergency room.
The sick baby's mother recalled, "The doctor ran some basic blood tests. But all they did was give her a saline drip IV and some Tylenol. They told us it was a virus and sent us home." The strange part was that McCall told the doctor she had tested positive for Group B strep when she was pregnant, but they still got sent home.
The information was also available in her medical records because she delivered Evi at that hospital. According to Group B Strep International, the bacterium is carried by 1 in 4 pregnant women.
Transmission to babies can be prevented if women are given 4 hours of antibiotics during labor. McCall received the antibiotics, however, she didn't know that "late-onset Group B strep" could still occur.
The bacteria can occur up to several months after delivery due to an infant's underdeveloped immune system. Evi's mother said, "Having a mother who tested positive for Group B strep is an increased risk factor for late-onset, which is why the doctors should have listened when I told them that I had tested positive."
She further explained:
"I was relying on them. They told me, 'You shouldn't be worried, this is a normal virus, babies get them, this is her immune system getting stronger.'"
The little girl was discharged at around 1 p.m. and a few hours later she vomited causing her mother to take her to a pediatrician. McCall shared, "The doctor looked pretty concerned and said, 'You need to get her back to the emergency room right now.'"
The little girl was taken back to Salem Health and this time the doctors checked for meningitis and performed a spinal tap and other tests. Evi was finally diagnosed with meningitis and sepsis and she was transported to OHSU Doernbecher Children's Hospital in Portland.
At OSHU "they indicated pretty early on that they were concerned about her brain." Doctors also revealed that the little girl "had sepsis which was affecting her breathing and her heart."
They said, "meningitis was potentially affecting her brain" and was placed on life support. At 5 a.m. on Sunday her vital signs started dropping and she was declared brain dead.
At 6:08 a.m., her life support was eventually switched off and McCall and her family took her to the hospital courtyard where they held her as she died. In a statement, Salem Health officials said: "This is a heartbreaking loss, and Salem Health offers its deepest condolences."
McCall is now sharing her story in the hopes that she can help other mothers avoid a similar tragedy. She stated, "That's the only thing that can make this into something redeemable, is if someone else can be saved."
Evi's mother explained that she hoped there would be "changes to protocol, so women are given more information at early intervention points." She elaborated that when she found to have strep B, it had been treated like a normal thing and "nothing to worry about."
McCall added:
"I wish at that moment they had warned me about the late onset possibility and told me what to look for. Another meaningful intervention point could be when they are dispensing antibiotics during labor, or after that as you leave the hospital with the baby."
Speaking about the hopes she had for Evi she said:
"We wanted to surround her with love, so we took her outside in the hospital courtyard so I could hold her as her father and two grandmothers surrounded her. I wanted her to be wrapped in loving arms, not covered in monitors and wires."
She concluded: "We wanted her last moments to be under the open sky."
Speaking about the late Evi, McCall shared, "She was beautiful. I know it's really a silly thing to focus on but I will never know what color her eyes would have been. I will never know who she was going to be."
McCall added, "It was too later for Evi." She also shared her story on Twitter withe the intention of educating other parents about meningitis.
Please fill in your e-mail so we can share with you our top stories!
The information in this article is not intended or implied to be a substitute for professional medical advice, diagnosis or treatment. All content, including text, and images contained on news.AmoMama.com, or available through news.AmoMama.com is for general information purposes only. news.AmoMama.com does not take responsibility for any action taken as a result of reading this article. Before undertaking any course of treatment please consult with your healthcare provider.