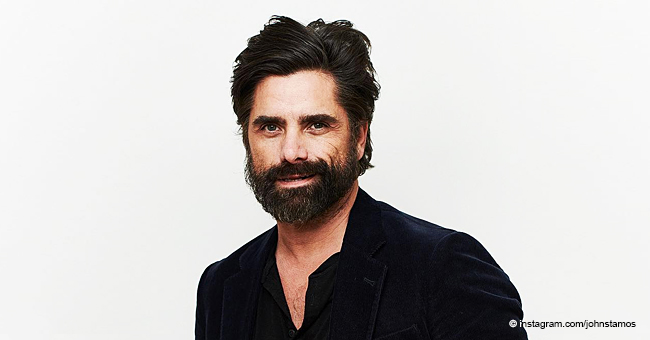 John Stamos Shares a Rare Photo with His Little Son, and Their Joint Gardening Is Adorable
John Stamos in a rare picture with his son, looks adorable, as the father-son duo spends time gardening. Fatherhood is beautiful, and while in the days of old, men tend to leave child care to mothers, things have taken a turn into the 21st century, as fathers play a more active role in their child's life.
John Stamos happens to be one of those fathers. After waiting 55 years to become a father, the actor takes whatever free time he has from his busy schedule to spend time and bond with his son, Billy.
Stamos posted a picture of one of those times on Instagram. The post showed father and son gardening, with the older man doing most of the work. The "Fuller House" actor wore a white shirt with blue gloves, while his little boy sat barefoot on back soil, looking intently at the trowel in the California native's hand; his look was adorable.
The 55-year-old captioned the picture "Sowing the seedlings of love," and his fans could not get enough of it. Comments ranged from "Cute," "This is priceless," "You two are adorable," "Young Gardener," and "Cutest."
This photo of the "Born To Ride" actor and his son is a rare treat, as Stamos rarely puts up his little boy on social media. His decision to keep his child private came from being shamed for holding Billy the wrong way when he was an infant.
The sitcom star who said on "Live with Kelly and Ryan" that he waited all his life for fatherhood, told "Entertainment Tonight" last October that although he wants to share his happiness with the world, he would rather not as people tend to criticize a lot.
In spite of this, Stamos also shared a video of Billy laughing to the funny sounds he made in March. The video came at a time when his co-star and on screen wife, Lori Loughlin got indicted in a bribery scandal, and "PEOPLE" reported it was intended to make fans smile.
The "Never Too Young To Die" actor wrote alongside it:
"For those of us who need a good smile right now. Xo."
The video's intent got fulfilled when co-star, Candace Cameron Bure, replied that it was what she needed.
Bure is not the only one to benefit from Stamos happy-go-nature. Nick Jonas who shares a friendship with the actor is also a beneficiary. The two friends are always trolling each other on social media, and sharing pictures of each other's face imprinted on a shirt, pillow, or bed cover.
It is no secret that Stamos is a fan of the "Jonas Brothers" and a jolly good fellow, but what fans want is to see more photos of baby Billy, and hopefully, they'll get their wish.
Please fill in your e-mail so we can share with you our top stories!