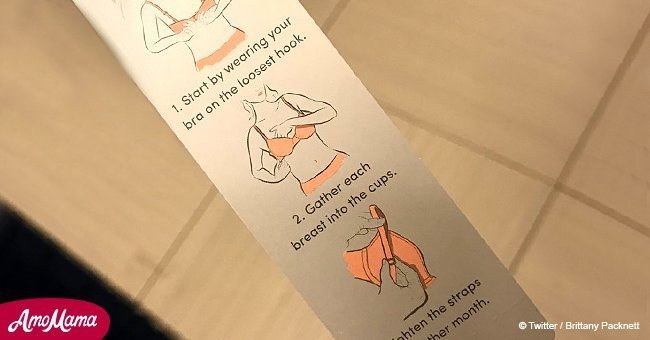 Woman Switched Lingerie Brands and Realized She Had Been Wearing Her Bra Wrong for Years

She believed that there was no science in wearing a bra and it never crossed her mind that she could have been doing it wrong for years.
Then, she tried a new brand that made her realize how mistaken she was. Brittany Packnett posted a series of hilarious tweets to share how she finally learned to wear a bra.
Packnett showed the tag from a bra made by a lingerie brand she never tried before. The tag included a three-step illustrated guide to properly put the undergarment on.
"[Thirdlove] just told I've been putting on my bras wrong for twenty years. You probably have, too," the surprised woman started her story, naming the lingerie brand in question.
Packnett revealed that she ignored the tag that came along with her bra for days before she casually took a look at it.
The indications on the tag were titled "How to put on a bra" and, as Packnett shared, she practically laughed at it, as she had a 20-year experience wearing them.
But as she put the bra on, as she was accustomed to, she decided to give the tag a try.
Packnett was astonished by what she found, for, according to the tag, she had been doing it wrong the whole time. "My whole post-pubescent life has been a lie," she comically said.
She posted a photo of the tag showing that it recommended wearing the bra on the loosest hook. It also favored adjusting the straps at least once a month.
In the tag, the manufacturers advised placing each breast correctly with her hands as well. Since Packnett appears to have rather small breasts, as she shared, she never needed to worry about placing them.
Packnett acknowledged that she tried the lingerie brand in question because a friend insisted on how comfortable she felt wearing it.
Since she didn't feel anything different when she put it on, she wondered if the tag could shed some light on it.
Several female users replied to her with empathy, sharing similar stories, and she was relieved to read it, adding: "And I'm glad some of you were honest that I'm not the only one."
Please fill in your e-mail so we can share with you our top stories!