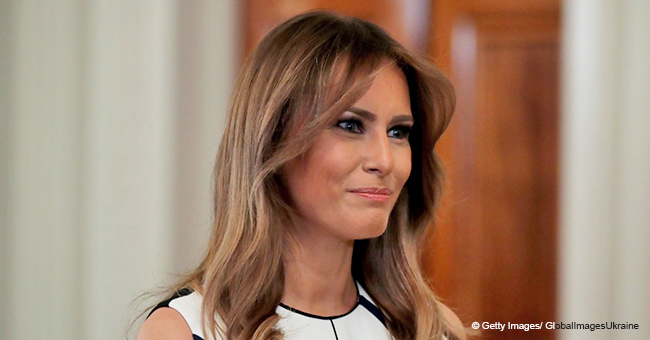 True Story behind First Lady Melania Trump's Higher Education
Melania Trump has been criticized once again for missing a critical entry in her curriculum vitae, her college degree.
FLOTUS Melania Knauss Trump was born in Slovenia and began a career in modeling at the age of eighteen. Her beauty took her places, and her contract with a French modeling agency gave her projects with the top fashion designers in France and Italy.
It was on a trip to the U.S. that, Melania Knauss met Donald Trump and became his third wife in 2005. She has a son, Barron, with the president.
As the wife of President Donald Trump, Melania's qualifications have come under scrutiny because of the tradition of the first ladies before her being well-educated women in their own right.
While it was noted that Melania attended the University of Ljubljana, she was not listed in the university's records as finishing there or receiving a degree.
Michelle Obama has a degree from Princeton University, and Lauren Bush attended Dallas' Southern Methodist University. Hillary Clinton and Nancy Reagan graduated from Wellesley College and Smith College, respectively. Jackie Kennedy began at Vassar and then enrolled at the George Washington University, while Pat Nixon went to the University of Southern California on scholarship.
The first ladies and their impressive accomplishments are considered an added value in leadership, as they are capable partners in furthering the country's causes, campaigns, and advocacies.
Melania Trump took to Twitter to clarify the error in her website which claimed she received a college degree. The website stated that she finished at a university in Slovenia with a degree in design and architecture.
It would seem that Melania had a premonition of a future in the White House years before it came to be. In an interview in 1999, the first lady was still a young model dating Trump but was asked about the status of their relationship.
While she didn't reveal much about it, she spoke freely about Donald Trump's plans to run for office. She said,
"He would be a great president. He is very smart and knows how to do business. He would be a great leader."
Melania gave a hint about the kind of first lady she would be saying,
"Yes, I would be very traditional, like Jackie Kennedy and Betty Ford and would like to work with the Make-A-Wish Foundation."
Her vision became a reality, as today she stands as the First Lady of the United States of America.
Please fill in your e-mail so we can share with you our top stories!