Legendary Country Singer Emmylou Harris Looks Stunning as She Turns 72
Emmylou Harris, one of America's finest interpreters of song spoke to the hearts of many through her countless hit singles throughout an astonishing 50-year career; and today she celebrates her 72nd birthday and an impressive list of achievements.
Perhaps to do her justice one has to start at the beginning of how it all came to be for the daughter of career military parents Walter and Eugenia Harris born in Birmingham, Alabama.
WHERE IT ALL BEGAN
After she graduated as class valedictorian from Gar-Field Senior High School in Woodbridge, Virginia, a drama scholarship to UNCG School of Music, Theatre and Dance at the University of North Carolina at Greensboro set the wheels to her success in motion.
THE BIG MOVE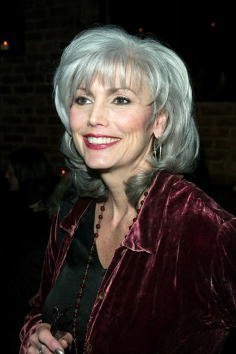 She studied music and soon discovered her love for playing guitar as she learned to play songs by Boby Dylan, Jan Baez, and Pete Seeger.
Her musical aspirations had her drop out of college whereafter she moved to New York City. She worked as a waitress while she performed folk songs in Greenwich Village coffeehouses in the 1960s.
In 1969 Emmylou both recorded her first album, "Gliding Bird" and married fellow songwriter Tom Slocum. But a short-lived marriage and a newborn daughter named Hallie had her move in with her parents in Clarksville, Maryland, where she got into Washington DC's folk scene.
HER BIG BREAK
It was in 1971, while Emmylou performed as part of a trio with Tom Guidera and Gerry Mule that Chris Hillman, a former Byrds member, spotted her talent. Impressed by her performance Chris recommended Emmylou to the father of alt-country, Gram Parson.
Credited for influencing artists from Wilco to Ryan Adams, Gram needed a female vocalist to accompany him on tour with his band, the Fallen Angels and Emmylou was the perfect fit.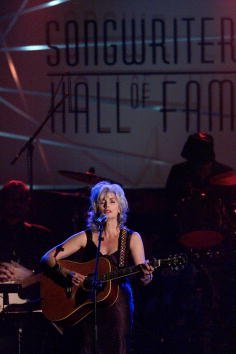 With Gram she discovered the language of country music, she found her voice, and herself as she eventually bloomed into her role as the queen of harmony.
"I discovered my own voice singing in harmony with Gram," Emmylou told The Guardian in November 2018. Their duet on the Felice and Boudleaux Bryant's song "Love Hurts" in 1973 became one of special significance as she added:
"There is something about the uniqueness of two voices creating a sound that does not come when they are singing solo, and I have always been fascinated by that. That song and our harmony is kind of a pinnacle of our duet-singing together."
LIFE TOOK A DRASTIC TURN
Sadly soon after they recorded the song for their album "Grievous Angel" Gram died in his motel room from an accidental drug and alcohol overdose on September 19, 1973.
The following year Emmylou released their album and another few of their recordings together on her "Sleepless Nights" album in 1976. She started working with Canadian producer Brian Ahern in 1975, who produced her first major label album "Pieces of the Sky" released the same year.
Emmylou Harris
Boulder to Birmingham
(US, Feb 1975)https://t.co/frEpA0aSHn
from Pieces of the Sky

Written about Gram Parsons, her collaborator & mentor, who died in late '73. Harris appeared on his solo debut GP, on posthumous albums, and had been a member of his touring band. pic.twitter.com/AgNjpvBqc2

— The Seventies (@Seventies_Music) October 21, 2018
EMMYLOU'S FIRST OF MANY AWARDS
Her country album "Elite Hotel" earned Emmylou her first Grammy for Best Country Vocal Performance for a Female in 1976, the first of an impressive 14 Grammy awards in total.
The legendary country singer entered into her second marriage with Brian Ahern in January 1977 with their daughter, Meghann born two years later.
In the years to follow Emmylou collaborated with fellow artists like Dolly Parton, Neil Young, Linda Ronstadt, Roy Orbison, Bob Dylan, and Willie Nelson.
However, it is probably her 1987 album "Trio" with Linda Ronstadt and Dolly Parton that stood out more than other albums as it was the most significant commercial success of Emmylou's career. The album spent five weeks on the top spot of  Billboard's Country Albums chart.
Her last album released, "The Traveling Kind" in collaboration with Rodney Crowell in May 2015 featured duets that earned them two Grammy nominations.
During a full career, Emmylou won the Polar Music Prize, got inducted into the Country Music Hall of Fame, and got presented with the Grammy Lifetime Achievement Award last year.
If statistics are anything to go by, Emmylou's cover of the 1955 Don Gibson song "Sweet Dreams" became her best performing and one of her most liked songs. It featured on her 1976 hit album "Elite Hotel" which in itself became a very successful album.
Happy Birthday, Emmylou Harris!
The legend in her own right also shares her birthdate with the Prince of Motown, Marvin Gaye who would have been 80 years old today. He brought his own flavor to Motown with hits like "How Sweet It Is (To Be Loved By You)" and "I Heard It Through the Grapevine."  And who can forget Marvin's iconic performance of the national anthem that amazed the world?