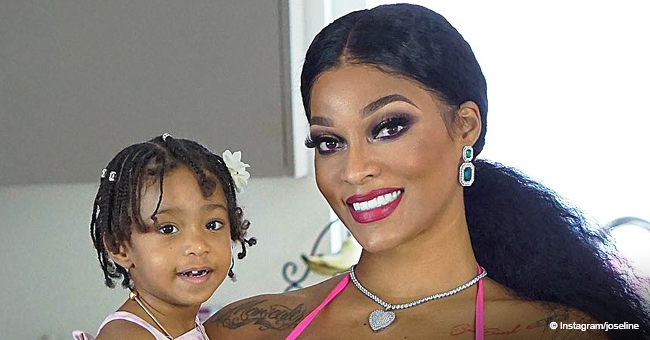 Joseline Hernandez Blasted for Allegedly Putting Bonnie Bella in Danger during Boat Photoshoot
The media can sometimes be too swift to judge, and one person who comes under significant media scrutiny is the reality TV star, Joseline Hernandez. This time, the rapper was slammed after sharing a controversial video of herself and daughter, Bonnie Bella Jordan on her Instagram page.
Many have taken a video that showed a mother and daughter having a good time out of proportion and insulted Joseline for her lousy parenting skills. The mother of one took to Instagram to share a video of her and daughter cruising on the boat.
In the post, Hernandez could be seen on top of a boat dancing to Westside Connection's "Gangsta Nation." As the 32-year-old grooved and shook her body to the beat, she beckoned to her toddler daughter in Spanish. The little girl stood up and joined her mother in the top tier of the boat.
Although this scene seemed a little dangerous, Joseline was there to guide her daughter and even at some point held the two-year-old to stabilize her before continuing with her dance. She captioned the video,
"Haters can't see us!"
Many who found the move risky took to the comment section to call out and slam the "Love and Hip Hop" star.
A user @smacktalkerskywalker916 wrote,
"I KNOW YOU ARE RIGHT THERE, BUT BONNIE SHOULD HAVE A LIFE JACKET ON BOO ... MADE ME A LIL NERVOUS ... NO JUDGMENT OR SHADE I JUST KNOW THE DANGERS. MY FATHER WAS BOAT PATROL ON A SKETCHY RIVER ...YOU'RE BOTH BEAUTIFUL STAY SAFE ?"
Another user @keyy.i' wrote,
"yo I know you got her, but I was so scared watching her up there. ?"
Some others, on the other hand, used the medium to share love, and commend Joseline on speaking Spanish to Bonnie at such an early age.
The 32-year-old who didn't say anything about the allegations thrown her way is not a stranger to backlash. Hernandez was recently slammed on Instagram after posting a raunchy picture which showed her nakedness from a photo shoot on her page.
The actress who had only a burgundy fur coat wrapped around her naked body captioned the post,
"Waiting for him at the door! With my best girlfriend @prettylittlething. ??
Joseline seemed to be living her best life and couldn't care less what haters say about her.
Please fill in your e-mail so we can share with you our top stories!