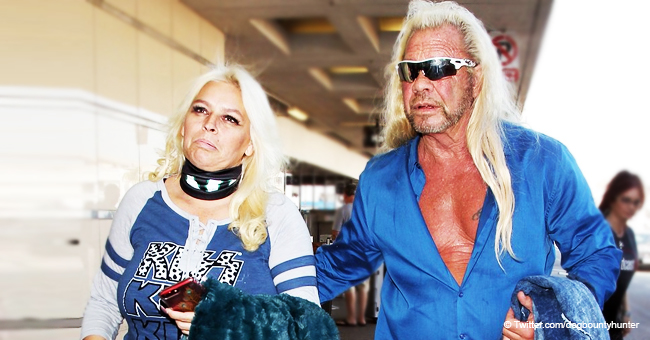 Duane Chapman Reportedly Says He's Not Going to Let Beth Die: 'I Believe in G-O-D'
The reality star, Beth Chapman who has been battling throat cancer, has had the unwavering support of her husband since the beginning.
In an exclusive interview with Hollywoodlife, while sharing details of his wife's state of health, Duane "Dog" Chapman made an emotional but strong resolution to keep up the fight against her ailment.
Back in 2017, Beth underwent the removal of a tumor from her neck after she was diagnosed with throat cancer. However, the reality star was not wholly free from the malignant growth as it fully returned in November 2018 as stage four throat cancer.
Living up to her reputation, Chapman refuses to be daunted by her ailment as the reality star continues to feature in episodes of the family reality show, Dog the Bounty Hunter. The 51-year-old reality star can keep up the pace with her husband and co-star, Duane Chapman who took on the full duties of being his wife's cheerleader.
Still speaking with Hollywoodlife, Duane relates how his wife rather than wallow in self-pity, has been doing her best at not getting overwhelmed by cancer. He talked about how they have plunged into work as a form of distraction from the illness.
"We just took off a couple days ago to do a three-week shoot and the first thing I thought about was, 'Oh my God, my honey's got cancer!. So I've got to keep her busy. I'm sure that's scriptural somewhere. I've got to keep her busy and off her mind and all the positive things and I'm not going to let her die." Duane explained.
He continued by revealing that Beth is not getting the "conventional treatment" while also refusing to disclose the method of treatments being employed.
Duane decried the use of conventional treatments as he showed his lack of faith in them.
"I'm Chiricahua, and I believe in G-O-D. That is my name spelled backward and I've never had such a challenge in my life. I am there for her, and I'm not going to let her die." Dog stated as he affirmed where his faith lies.
The celebrity couple has been together for nearly 30 years and has refused to let the staggering blow of cancer damage the love they share. Duane and Beth Chapman instead see the development as a point to grow stronger.
Other Celebrities and Fans alike can pick a cue from the Chapmans and treat life with an optimistic approach.
Please fill in your e-mail so we can share with you our top stories!