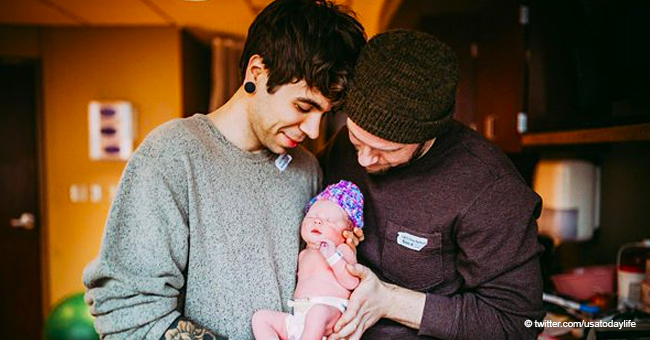 61-Year-Old Nebraska Grandma Gives Birth to Her Son and His Husband's Baby
Matthew Eledge and Elliot Dougherty never knew what their fate had in store when they were looking for a surrogate for their baby. Little did they know Matthew's mother would be the one to bear their child.
Matthew's mother Cecile could not help but offer to be the gestational carrier for him and his husband Elliot when they shared that they were planning to start their family.
"If you want me to be the gestational carrier, I'd do it in a heartbeat."
Recalling her own parental journey, she thought giving birth would be a great experience for her again.
The couple was touched by Cecile's gesture but they thought it was not possible for her to bear a child, given that she was a 61-year-old postmenopausal woman.
During a visit to reproductive endocrinologists to discuss surrogacy options, Matthew mentioned his mother's offer. Upon hearing it, his doctor Dr. Carolyn Maud Doherty wanted to see whether Matthew's number might be eligible for surrogacy.
Giving their luck a push, the couple took their mother to Reproductive Health Specialists at Methodist Women's Hospital in Omaha, where they ran several tests.
To their amazement, Cecile turned out to be in a good shape to carry a fetus to term. After all the arrangements were made, she conceived a child with Elliot's sister ovum.
Nine months later, she gave birth to a healthy baby girl naturally. The baby, named Uma Louise weighed 5 pounds and 13 ounces during birth.
In a similar story, a 55-year-old woman became a surrogate for her daughter who is unable to carry a baby.
Tracey Smith was over the moon when her mother, Emma Miles, offered to bear her child. She lost 38kgs before attempting the treatment so that she could carry her daughter's child.
She gave birth to a healthy baby girl, Evie Siân Emma Smith on 16 January 2019.
Please fill in your e-mail so we can share with you our top stories!